Swimming With a Purpose
The sport of water polo, although not one of the more dominant sports in modern society, has an intriguing history associated with it. Originally developed in the mid-nineteenth century in Great Britain by a man named William Wilson, "water rugby", which soon came to be known as water polo, was a sport that placed emphatic significance on the athleticism of its participants. Swimming, endurance and accuracy are only some of the primary components involved in the conduction of a water polo game. By the beginning of the twentieth century, the sport had experienced a ripple in popularity, receiving an expansion to western nations and being implemented into the competitions of the Summer Olympics at the 1900 games.
At Coral Gables Senior High School, water polo has become a sport with an rapidly growing attraction. Several of the team members actually participate additionally on the school's swimming team. In fact, this serves as a perfectly-timed convenience, since the two sports are played in different seasons, swimming being in the fall and water polo in the spring.
"I joined water polo because I was already doing swimming and I didn't know much about water polo. I joined it to see how it was and it's actually really fun," sophomore Isabella Telles said.
Due to substantial losses in terms of experienced players in the previous season, the Cavalier water polo team considers themselves to be in a "rebuilding process", trying to focus on future success by grooming the untapped talents and skills of their inexperienced and young team members. Despite this, they still engage in a rigorously draining practice schedule. As a result of our school not possessing a pool that could be utilized on a daily basis by the water polo team, they attend the pool at Ransom Everglades High School. Consisting of several grueling drills, the water polo team typically practices on a five day schedule and between the hours of 3:00 to 5:00 p.m. While the sport of water polo does showcase some demands in an athletic perspective, many of our school's water polo athletes have expressed great interest in the sport and appreciate it profoundly.
"I think joining water polo has introduced me to a new type of environment in which we all try to help each other out to improve on all the skills we need to improve on," sophomore Mauricio Sosadias said.
It will definitely be interesting to see how the Cavalier water polo team approaches the remainder of the 2018 season, in addition to the seasons that follow, as they eye greatness in the foreseeable future.  As the spring season continues, make sure to wish the them luck as they look to gain momentum and compete for a GMAC Championship!
About the Writer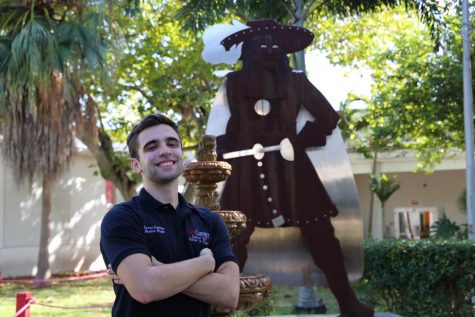 Daniel Toll, Co-Editor-in-Chief
Daniel "Danny" Toll, is a senior in the International Baccalaureate (IB) program at Coral Gables Senior High. In what will unfortunately be his last year...