NBA All-Star Game: Team LeBron vs Team Steph
The NBA All-Star Game is famously known for being one of the most anticipated events of the basketball season. Traditionally, basketball fans across the nation would vote for their favorite players, giving them the fortunate opportunity to participate in an event that showcases the greatest basketball players across the country. Especially in recent memory, the NBA All-Star Game has been a source of exhilaration and excitement as a result of the unstoppable and formidable offensive onslaught coming from both teams. Typically, the two teams partaking in the All-Star Game are the East All-Stars and the West All-Stars, dividing the nominated players into their respective conferences.
In early October, the NBA announced a major revamp in the formatting for the All-Star Game, also stating that the new rules will be implemented into full effect at the 2018 All-Star Game in Los Angeles. Under this newly introduced system, two announced captains draft teams out of a pool of players who have been voted in as starters and reserves. The player receiving the greatest amount of votes for each of the two conferences, the East and West, will be receiving the honor of team captain.
On Jan. 18, TNT revealed the captains and the All-Star Game starters and the reserves were unveiled on Jan. 23, completing the All-Star rosters. Below is an in-depth evaluation and analysis of the starting lineups for both teams under the leadership of LeBron James and Stephen Curry.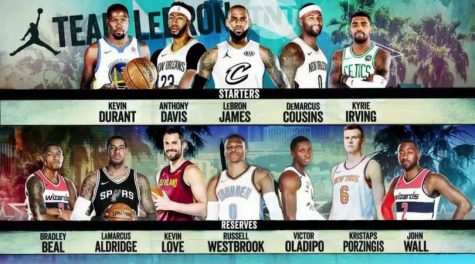 Team LeBron Starters 
LeBron James, the King himself, solidified himself this year as the front-runner in the All-Star voting for his remarkable feats on the basketball court. Only improving with age, James rightfully earned his leadership role in this year's new formatting. Boasting an impressive slash line of 26.8 points, 7.9 rebounds and 8.7 assists per game, LeBron has been nothing short of a marvel to watch in this season at age 33. Propelling the Cleveland Cavaliers at the small forward position, he has gone to three straight NBA finals, not to mention four other appearances with the Miami Heat. He is a three-time NBA Champion and four-time MVP. An impressive, once-in-a-generation career to say the least, James has consistently dominated the NBA and aims to add yet another award to his overflowing shelf as an All-Star captain.
"I think Team LeBron will win the All-Star Game. This is the popular opinion right now for obvious reasons. Statistics-wise, LeBron has a much better team. He's got two of the best players in the world, along with many former MVPs and NBA Champions. Although, I won't count Curry out; he's got great players who can put up a good fight," sophomore Kluivert Suquino said.
Kevin Durant of the Golden State Warriors, being the first player to be picked, will play under the leadership of LeBron James. Although rivals on the basketball court, LeBron could not pass up the elite scoring potential of Kevin Durant when meticulously making his draft selections. With an MVP award of his own, Kevin Durant is commonly referred to as the premier shooter of the NBA, averaging 26 points per game in a star-studded Warriors lineup that features the "Splash Brothers," Stephen Curry and Klay Thompson. Formerly with the Oklahoma City Thunder, Durant made sure his presence was felt with the Warriors and laid a significant footprint, carrying the Warriors to their second NBA Finals victory in three years.
The New Orleans Pelicans feature two star players on Team LeBron's starting lineup. Anthony Davis and DeMarcus Cousins, two of the best "big men" in the NBA. They will serve as a defensive force on the court, but also have incredible offensive ability. Anthony Davis can play as both a power forward or a center due to unparalleled height advantages over other players. Davis averages a "double-double" stat line with over 26 points per game and 10 rebounds. Partnering with Davis is DeMarcus Cousins, who has established himself as a complete, talented basketball player on both sides of the court. Posting similar numbers to Davis in most categories, he does exceed him in assists per game, in which he averages 5, and rebounds, averaging nearly 13. The two nearly 7 foot tall stars help to create a balance to the quickness, athleticism and shooting tactics of the other players on LeBron's team.
Kyrie Irving of the Boston Celtics will be representing Team LeBron as a guard in the All-Star Game. Although his stat line is not nearly as impressive as that of James and Durant, he does accumulate a remarkable 25.5 points per game, with a respectable 3.8 rebounds and 5 assists per game. The secret weapon that Irving capitalizes upon in his games are his skills with ball handling. A wizard with the basketball, Irving uses his quickness and maneuverability to get past opposing defenders and create lanes for himself and his teammates. A significant contributor to the Cleveland Cavaliers making the NBA Finals over the last three seasons, he will most definitely prove to be a valuable asset to the play-making ability and success of Team LeBron.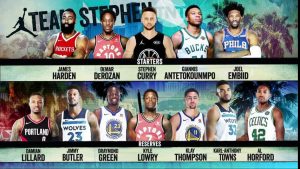 Team Steph Starters

Stephen Curry, an established leader of his own with the Golden State Warriors, will be taking the reigns as the opposition to LeBron's drafted team. A two-time NBA Champion and two-time MVP, Curry is in the middle of his prime years of peak performance at the age of 29. With a track record that will potentially crown him as the greatest 3-point shooter in history, Curry's athleticism and versatility on the basketball court make him a formidable force to be reckoned with. Up to this point, Curry has compiled a jaw-dropping average of 27.5 points per game, accompanied by an impressive 5.2 rebounds per game and 6.6 assists per game; impressive considering his smaller stature when compared to most basketball players.

"Stephen's team just seems to overpower LeBron's in every way. They're younger, quicker and more athletic. I feel like the game will go down as a close one to the end, but Team Curry will walk away with a win," freshman Jose Gonzalez said.

James Harden of the Houston Rockets, although incompetent defensively, racks up offensive numbers that oftentimes cannot be paralleled by even the best NBA All-Stars. Despite having lost the MVP voting two times in a row as a runner-up, Harden has solidified his stance as an MVP-caliber player with what will likely result in the best season of his career. Throughout his career, he has compiled an average of 22.7 points per game. Outstanding as that may sound, he has averaged 31 points during the 2018 season and 9.1 assists. His presence and maneuverability on the basketball court, although depriving Team Curry of a sustained defense, converts into a consistent scoring onslaught that will definitely propel the team to unthinkable heights.

DeMar DeRozan further embodies the type of team that Stephen Curry attempted to create when he was honored with the role of Team Captain. A guard of the offensively-strong Toronto Raptors, DeRozan utilizes quickness and strength as a means of scoring. Aside from a very high points per game rate at nearly 25, DeRozan does not have any other standout statistics, but can contribute greatly to the fast-paced, offense-centered lineup that Curry created.

Giannis Antetokounmpo, also known as the "Greek Freak," has emerged as one of the NBA's elite, one-of-a-kind superstars. With a muscular 6′ 11" stature, Giannis is a human tower of terror on the basketball court, bulldozing through opposing defenders and posterizing them with a forceful dunk. Although Giannis is solely living up to the prophesied potential that was foretold of him upon his draft signing, it is difficult to underscore his impact to the Milwaukee Bucks and the NBA as a whole. With a ridiculously high 28.5 points and 10.2 rebounds per game, Giannis is an extremely valuable addition to an athletic and powerful Team Curry lineup.

The final piece of Team Curry's starting five is young phenom Joel Embiid of the Philadelphia 76ers. Embiid has, since his arrival to the NBA, proven he is an all-around star on both ends of the court. A threat in the paint as well as the perimeter, Embiid perfectly embodies the "big man that can shoot" concept. A stat line similar to that of Giannis Antetokounmpo, Embiid is an exceptional rebounder, averaging over 10 per game, and an elite scorer.

Verdict

Both team captains organized their teams in such a way that they masterfully crafted a team that could easily have an 82-0 season. The All-Star Game will undeniably have a skyrocketing final score, but is more inclined to favor Team LeBron on paper. The dynamic duo of big men teammates, Anthony Davis and DeMarcus Cousins, outweighs the younger, less experienced Joel Embiid and Giannis Antetokounmpo. Kyrie Irving is the source of play-making and quickness for Team LeBron, and although he will not be as influential as Stephen Curry in terms of scoring, he will easily create lanes for himself and his teammates and give them an upper edge. James Harden and Kevin Durant are, in their own ways, superstars themselves and don't have much of an advantage over each other aside from a noticeable height difference. The final individual match-up is between DeMar DeRozan and LeBron James. With all due respect to DeRozan, it is easily an overpower in favor of LeBron.

Nevertheless, the setup of both teams was designed to create an engaging and exhilarating All-Star Game. While LeBron's team is more balanced overall in terms of scoring and defense, Team Curry is more centered around quick, athletic, and transitional offense.

Who do you think will win the NBA All-Star Game? Make sure to tune in to TNT on Feb. 18 and root for Team LeBron or Team Curry.

[powr-poll id=f1f20460_1517111588530]
Leave a Comment
Your donation will support the student journalists of Coral Gables Senior High School. Your contribution will help us cover our annual website hosting costs.
About the Contributor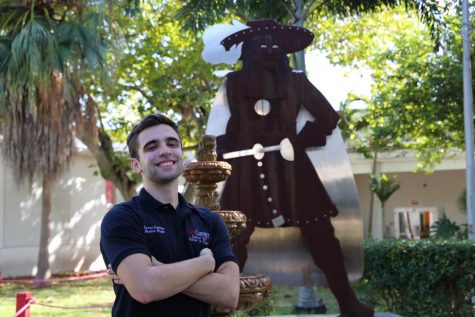 Daniel Toll, Co-Editor-in-Chief
Daniel "Danny" Toll, is a senior in the International Baccalaureate (IB) program at Coral Gables Senior High. In what will unfortunately be his last year...