The Final Chapter of a Four Year Story
The Lady Cavaliers' soccer season is finally coming to a close, ending a 20-game season which began in early November. Their senior game, traditionally being the last game of the official season, was played on Jan. 12 against Lourdes. The home game drew the biggest crowd of the season, providing the Cavaliers with a chance to redeem themselves after their previous 7-0 loss to Lourdes.
In accordance with Cavalier tradition, there was a ceremony before the game that honored all the graduating seniors on the team. Many of the senior players have been on the varsity team since they were freshman and have dedicated a lot of time and effort to the sport. This game was the last official high school game any of them would play.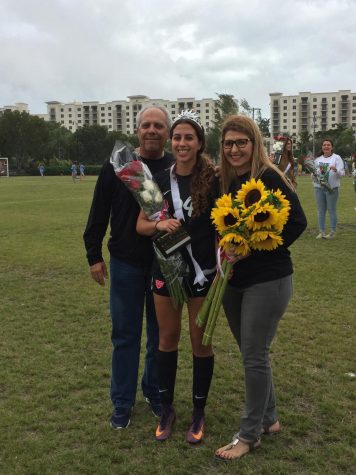 "I feel like the seniors have really helped and inspired our team. I've loved playing with them. It'll be hard when they leave, but they've taught us so well. I'm glad that I've been able to meet them and share so many great experiences with them," freshman Nina Montero said.
Underclassman players brought flowers, sashes, crowns and framed pictures of the team to hand out to each of the 12 senior players. Parents of senior players also came to take pictures and congratulate their daughters.
The Lady Cavs played with nearly all seniors starting and created a mostly defensive lineup, including four defensive backs and five midfielders, to limit Lourdes' scoring. Lourdes scored one goal in the first quarter; the score would remain 1-0 in favor of Lourdes by halftime.
After battling with the Cavaliers' defense throughout the third quarter, Lourdes scored two more goals in the last 15 minutes of the game. This brought the final score to a 3-0 victory for Lourdes.
"I think the team played really well. It was much better than the last time we played Lourdes, and I think that shows that the team has grown and improved a lot," freshman Isabella Rodriguez said.
Although this game was not a victory for the Lady Cavaliers, the score and level of play was significantly better than the last time the team faced off against Lourdes. The defensive strategy and increased communication on the field helped them improve their performance.
It also means that their record is good enough to qualify them for the GMAC quarterfinals, a county-wide competition between the top eight schools in Miami-Dade. The Coral Gables Cavaliers will play the Palmetto Panthers on Tuesday, Jan. 16 at Stafford Park for their quarterfinal game.