A Thunderous Trade Brings Carmelo Anthony to OKC
The New York Knicks announced on Monday, Sept. 25th, that they have exchanged long-time forward Carmelo Anthony for two Oklahoma City Thunder players – center Enes Kanter and forward Doug McDermott. The trade is expected to strengthen the offense of an already dense Oklahoma City Thunder roster, sporting all-around superstar Russell Westbrook and Paul George, previously of the Indiana Pacers.
"I think that the Thunder are really going to be a team competing for the championship this year, even more so than they were last year," says freshman Lucas Gonzalez.
Anthony has been playing with the New York Knicks for seven seasons, following his switch from the Denver Pioneers in 2011. At 33 years old and 14 years in the NBA, he is one of the more experienced players in the league and has compiled an impressive list of credentials.
"I feel this trade will benefit Carmelo because he won't have such an offensive burden to carry. He doesn't need to carry the team anymore. In the Olympics, he proved he performs at a higher level when he has solid players behind him," sophomore Rodney Michel said.
Throughout his 976 career games, Anthony has averaged 24.8 points, 6.6 rebounds, 3.1 assists and 1.06 steals in 36.2 minutes. He is also ranked 25th on the NBA's all-time scoring list at 24,156 points, and he is one of only six players in NBA history (alongside Kobe Bryant, Vince Carter, LeBron James, Dirk Nowitzki and Paul Pierce) to record 24,000 points, 6,000 rebounds, 2,500 assists, 1,000 steals and 1,000 3-point field goals.
"We are thrilled to welcome Carmelo to Oklahoma City and the Thunder organization," said Thunder Executive Vice President and General Manager Sam Presti. "In addition to his skill level, experience and unique talents, Carmelo is another high character and professional player for our roster."
Both of the players coming to take Anthony's place on the Knicks also have impressive credentials and tremendous benefits, despite being comparatively young.
Kanter, 25, was a first-round pick of the Utah Jazz in 2011. He averaged 14.3 points and 6.7 rebounds for Oklahoma City last season, despite only playing 21.3 minutes per game. McDermott, also 25, was the NCAA's leading scorer in 2014, averaging 26.7 points per game as a senior at Creighton. In the 2017 NBA season, he averaged 6.6 points and 19.5 minutes in 22 games for Oklahoma city.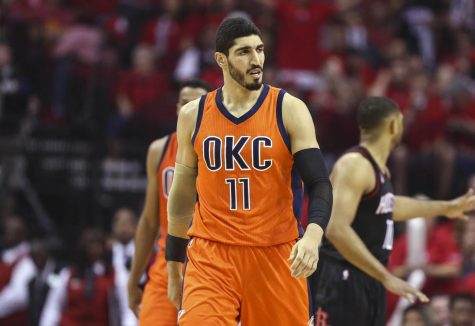 The young age and relative inexperience of Kanter and McDermott was regarded as an asset to the Knicks, with their General Manager Scott Perry saying "We acquired two 25-year-old players in this deal that we can develop, while sticking with our overall strategy of emphasizing youth and athleticism."
"With this trade, we have added scoring and aggressiveness to our frontcourt, and bolstered the team's perimeter shooting," he continued. "We are glad to have finalized a trade that made sense for all of us."