Gables Girls Soccer Team Takes A Win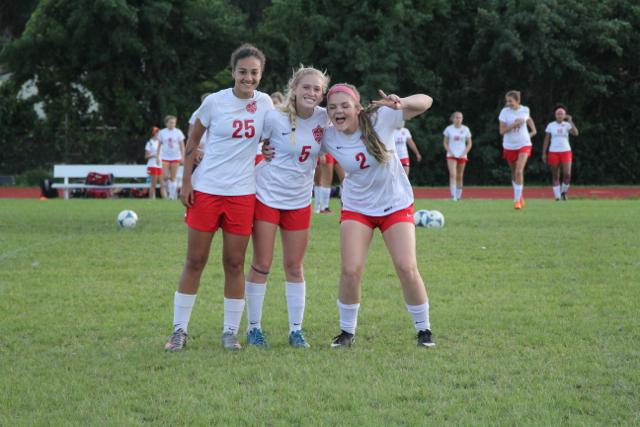 Natalie De La Rosa, Staff Writer
December 9, 2015
On Monday, Nov. 23, the Gables girls' soccer team played against American. The game took place at the Coral Gables soccer field. The Cavaliers won the game despite the efficient blocking from the opposing team. The team worked well together for each goal and gave all they had. The score was set at 8-0 with Gables as the big winner when it came to a close.
"I feel we really stepped up our game compared to last week and we were able to remain calm and focused," senior Gabi Saliamonas said.
The Cavaliers' soccer team was focused and played extremely well. They got one goal within the first five minutes of the game. A little while later, Gables got a freebie; American made a self goal, giving Gables a point and setting the score to 2-0. Gables scored yet another goal, and after the water break, attempted a tremendous shot and scored, leaving the score at 4-0. Some impressive blocking by American's goalie kept Gables from racking up any more points for a little while. Still, Gables made another goal at the start of the second half, and then a few more. After the last water break, the Gables girls ended fiercely with one last shot to close the game.
"It was a great game and a lot of us players got to try out different positions," sophomore Julia Lancaster said.
American did not make one goal while Gables held the victory. The girls' soccer team scored goal after goal. Hopefully, the girls will play just as well in future games. Be sure to catch the girls in their next game against Coral Park on the Gables field on Friday, Dec. 11.