Cavaliers Keep Turkey Bowl Trophy!
On November 7, the Cavalier Nation fought a long game against the Southwest Miami High Eagles. The game took place at 7:30 p.m. at Tropical park. The Cavaliers came through with a score of 30-19, keeping the Turkey Bowl Trophy at home. For those of you who do not know what the Turkey Bowl Trophy is, it is a tradition Gables holds annually with Southwest; every year we play, and whoever wins gets the trophy!
"The two sides played tough with each other, and I would say the game was great. Good job with the fans and the players," freshman Alejandro Pollier said.
In the first quarter, Vashon "Bubba" Waiters (#17) scored on a 12-yard run. In the second, Kevin Romer (#18) blocked a punt, scooped up the ball and ran it back 70-yards for a touchdown, bringing the score to 14-0 halfway through the game.
"The best part of the game was when we had the huge momentum change,  but we need to focus on playing Cavalier football, and working as a team. Go Cavs," sophomore Romer said.
In the third quarter, wide reciever Shaquery Wilson (#7) ran into the end zone for another Cavalier touchdown raising thr lead to 21-0. Later in that quarter, running back Amir Rasul found the end zone for  another touchdown. In the last three minutes of the quarter, Southwest ran two touchdowns, setting the score to 27-13. In the fourth quarter, Lorenzo Grigio (#83) kicked a 23-yard field goal extending the cavalier lead to 30-13. In the last seconds of the game, Southwest scored yet another touchdown through the air. The final score of the battle for the Turkey Bowl Trophy was 30-19.
"The main focus of the game was to come out dominant – offense, defense and special teams – and it showed in flashes … but flashes aren't going to get us to where we wanna be," offensive coordinator and quarterback coach Cooney said.
The Turkey Bowl trophy remains ours for the 45th time! Next week, your Coral Gables Cavaliers take on the North Miami Pioneers in the first round of the class 8A Football Championships.  Join us at 7:30 p.m. at North Miami Beach Stadium as we take another step towards the state championship.
About the Contributor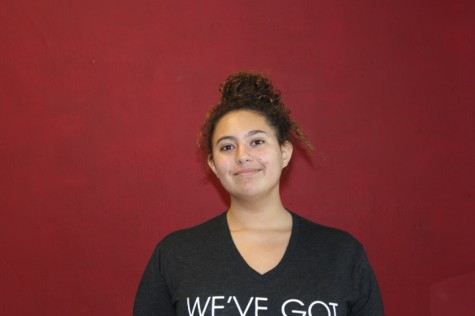 Samantha Valero, Staff Writer
Samantha Valero (Also known as Sam, Cookie, and Kitten) is  a freshman in the CAF&DM academy in Coral Gables Seinor High. Samantha is involved...