Bollywood Bombshell: Bombay Darbar
Hang on for a minute...we're trying to find some more stories you might like.
Our Rating: A+
Nestled in a quiet street in Coconut Grove right off of Coco Walk lies the hole in the wall known as Bombay Darbar. As the name implies, it is an Indian restaurant that brings together the best of this country's diverse cuisine to one place. The unassuming sign on the street may not grab your attention visually, but gastronomically it is anything but unassuming.
The restaurant's decor is absolutely impeccable. Despite its small size, it sports an extensive bar that extends the entire width of the restaurant. Perhaps the most striking features of the bar are the giant Buddha heads that overlook the customers who are savoring their food. Wall length mirrors line the back wall of the restaurant and reflect the view of this stylish restaurant and its Indian flare.
"I live right down the street from Bombay Darbar. Every Saturday night there is a line of cars going in the direction of the restaurant. I definitely plan on going there in the future. senior Brianna Fernandez said
The menu is no less impressive than the establishment itself. Since they have such a variety of entrée options, they are organized according to main proteins: fish or seafood, meat, chicken or vegetables. Within each category, there are at least five dishes. Each dish contains a flavorful blend of spices and is made using different methods of preparation. Throughout the menu, classic Indian dishes such as chicken tikka masala are found alongside more innovative dishes like mango chicken curry.
Prior to ordering, every table is given a basket full of paper-thin bread called papadum as an appetizer. Despite it being such a small quantity of food, the papadum packs an impressive amount of flavor. Slightly spicy yet very aromatic, the papadum serves as the perfect transition to your main course. Every main course is served with a side of jasmine rice. Both the entrée and rice are served in traditional Indian metal bowls that contribute significantly to the authenticity of the food.
"I go there as often as I possibly can. My favorite thing to get there is the Chicken Tikka Masala. The friendly staff there and delicious food make it a regular stop for me" senior Aisel Galvez said
Apart from rice, the restaurant offers several flavors of naan, an Indian bread, including plain and garlic, to accompany the entrée. Each piece of naan is made in a traditional Indian tandoor oven that produces a warm and fluffy piece of bread to scoop up all the sauce from your entree. One of their signature dishes is the lamb roganjosh, a typical dish from northern Indian. Large chunks of lamb meat are cooked in a yogurt based sauce made with tomatoes, onions, cloves and garlic, among other things. The combination of tender meat and a thick savory sauce create a truly unforgettable culinary experience.
Miami, despite being such a diverse city, severely lacks in the availability of quality Indian food. Bombay Darbar has stood out as a truly exceptional restaurant experience. India was the once known as the crown jewel of the British Empire; Bombay Darbar is undoubtedly the crown jewel of South Florida's Indian restaurants.

About the Contributor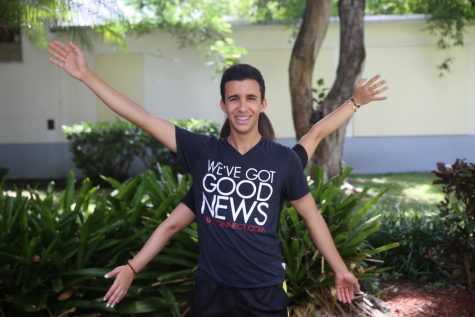 Pablo Hanono, Staff Writer
Pablo Hanono is a senior in the International Baccalaureate (IB) program at Coral Gables Senior High School. This is Pablo's second year in CavsConnect,...