London Vs. New York Fashion Week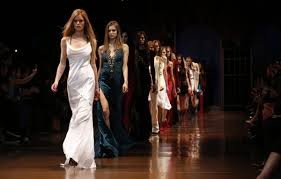 Fashion week is one of the most anticipated, extravagant events of the year, which allows fashion designers to display their latest collections in runway shows for buyers and media. Each designer's line is more unpredictable than the next; they have these wacky ideas that would never be seen on a casual walk down the street, yet their eccentric getups are what is typically considered fashion.
From January to April, designers showcase their autumn and winter collections. Spring and summer fashion week is held from September to November. These dates are set up to allow time for retailers to arrange their purchase of a designer's products. The latest dress designs are showcased by renowned fashion designers during these designated weeks, and the collections are then covered by acclaimed magazines (i.e. Vogue).
This year's fashion week, both in New York and in London, has been the most talked about one yet. Fashion weeks in New York and London are unique not only because of their distinct locations, but also because each city has its own special flare.
New York Fashion Week-
New York Fashion Week is usually held in February and September of each year, and usually lasts about seven to nine days. It is one of the five major fashion weeks in the world, along with Paris, London, Berlin, and Milan. However, New York's fashion week was the top story in Vogue Magazine this year, which was a huge honor.
Many new outfits have been created to mirror typical London styles. The two sides to fashion week include some ladylike attire and the cutting-edge street look. Model Caroline Issa was dressed in a pink blazer and a pale green skirt, which turned out to be one of the latest trends this year in New York. Model Shu Pei added to the list of trends by flaunting slip on sneakers and a Brian Lichtenberg sweatshirt on the runway.
Numerous renowned designers came out with brand new looks for their collections. All new summer and spring collections were displayed by Calvin Klein, Marc Jacobs, Ralph Lauren, Marchesa, Michael Kors, and DKNY.
"I'm not much of a fan [of] fashion but receiving the snapchats [from] the New York Fashion Week really caught my attention and made me watch and read up on it. I definitely find it a lot more interesting than the London Fashion Week mainly because of the unique styles New York has and the famous models presented, like Kendall Jenner," sophomore Emily Quintero said.
London's Fashion Week-
While New York was rocking the street look, London incorporated more of a classy, everyday look. London Fashion Week runs around the same time as New York Fashion Week. Their previous fashion weeks have been more exotic; they usually sport big dresses decorated with sparkles and eye-catching colors, but this year they presented everyday work styles comprised of duller colors.
Mulberry's company released a new collection after last year's lacking new material. They surprised audiences with model Sofia Ingot as she wore a loose, flowery blue dress and a beige long coat with brown closed sandals.
"London's fashion week was absolutely amazing! I thought the outfits really popped out, got my attention and looked really nice to wear. Although, I must say I thought the New York Fashion Week was a bit more entertaining due to all the familiar brands. I can't wait to see next year's looks," freshman Denise Barrios said.
This year's fashion week was a great success in both New York and London. Both fashion weeks had very nice presentations and got people to want to start wearing the styles showcased. Many designers attended to show off their collections, and are now starting to create their collections for the upcoming season. People are anxiously waiting to see what is in store for next year.