Gables' Bee Infestation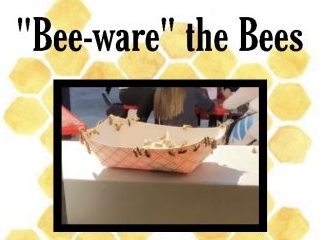 Lately, there has been a lot of buzz at Gables surrounding the newest unintentional addition to our school. A swarm of bees has taken over the Pavilion, monopolizing the lunch area. The insects have generated a lot of talk as students wonder what they are even doing here in the first place and where they will end up going.
No one quite knows where these visitors came from. The bees suddenly showed up one day as students were lounging around the outside eating space, and have resided there for about two weeks. Some wonder if there is a hive nearbee, or if they were attracted by the sugary snacks given out at lunch lines. Maybe, another theory suggests, Gables students and staff are too sweet for the bees to stay away.
The fascinating thing abeet these striped anthropods is their impact on students. With hundreds of Cavaliers interacting with the bees each day, different attitudes have developed towards the insects. In some kids, their tiny bee bodies manage to inspire intense fear. In others, they are interesting additions to the Pavilion and add excitement to the otherwise boring environment. To the unique group of unbothered students, they go entirely unnoticed.
"
The bees are terrifying. I am always dodging them. We cannot even sit down anymore because they are everywhere"
— freshman Zarah Correa
Another question that has been raised is why exactly the bees are here. It could simply just be that they want to receive the amazing education Gables provides students. In all honesty, they could be trying to speak to an International Baccalaureate counselor to try to join the I-"Bee" program. If they were wise, they would be finding out about the exceptional writing classes offered by the Communication, Arts, Film, and Digital Media (CAF&DM)  academy. If any are skilled journalists, they should apply for  CAF&DM's CavsConnect class.
The bees generally spend their time near the trash cans outside, so if one wishes to stay away from them it is best to seek refuge in the indoor dining spaces. Although bees are generally safe to bee around, they may attack if provoked. Those who are allergic to or fear these animals should steer clear of them to avoid any issue. Some unlucky students have already been stung.
"The bees were not here last year—I am a sophomore—and my life was just so much more peaceful in general, without them beeing here. Now we just have to scurry around the pavilion and it is just not good. I think we need to do something about the bees. We are in a way lucky to have them, but they need to be controlled more. Do I fear them? No, because I know that they are friendly, but it is kind of scary that a girl already got stung," sophomore Benjamin Pla said.
Despite varying opinions on bee-related matters and their presence, the school knows it must do something about the intruders. The administrators already called professionals to inspect the infestation. Unbeelievably, the company that was hired sent a termite exterminator rather than a bee expert. Regardless of this setback, they are still working on a solution. If the bees are expelled from Gables, be sure to give them a "swarm" goodbye.