Students Pose Proudly at Gables' Annual Awards Ceremony
The annual Coral Gables Senior High awards ceremony serves to celebrate its highest-achieving students. The main focus of the awards is to acknowledge an individual student's success in a niche area in academics amongst the crowds that were their grade levels and student body. 
Starting in early December, Ms. Suarez and teachers across Gables have been on the lookout for potential candidates to receive special distinction among the student body.  After finalizing the list, nominated students were asked to fill out an application mentioning their academic and personal achievements. 
Students who submitted their applications were put on a ballot sent to the faculty to vote on. After carefully choosing ten students per grade level, the information was put on a spreadsheet which included their Grade Point Averages, the student's number of votes from the faculty and all of their extracurriculars. From there, the Selection Committee, a group of around 10 to 12 teachers, voiced their final opinions on which student should receive each specific honor. 
"The driving force behind the decision of who gets what is the number of votes a student received, because that is the voice of the faculty telling us how they feel about the student," Student Activities Coordinator Mrs. Suarez said. 
On March 14, the annual Gables awards ceremony was held as students in formal attire walked into the auditorium, ready for their moment in the spotlight. Faculty members and families were invited to the ceremony to watch students receive awards from teachers, universities and clubs in recognition of their achievements.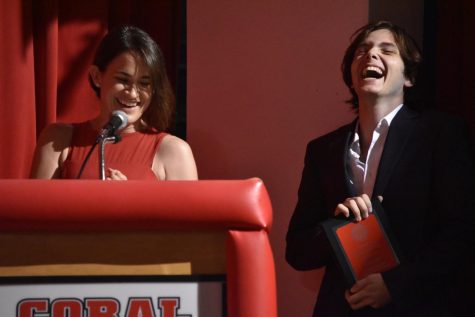 "Being there to MC the event, introduce the teachers to come up and hand the awards to each of the people, was one of the best moments in my high school experience. I got to see the faces of all these kids light up as they got an award that they were not expecting to get. Just hearing every student hearing what the teachers wrote about them about why they should receive this award, it just makes every person's year just that much more special," senior William "Trip" Beardslee said. 
Elected Masters of Ceremony, seniors William "Trip" Beardslee and Maria Fernandez introduced the ceremony itself, welcoming Mr. Romero to announce athletic awards, highlighting student-athletes who have demonstrated commitment to their sport. Ms. Kiely, the International Baccalaureate Chemistry teacher, then presented the various department awards, Mrs. Barrow awarded honors for art and theatre and Ms. Rouit announced the language accolades. 
"Getting these awards has demonstrated to me that putting in the time and effort and being dedicated to my studies and my athletics has proven to be rewarding in the end. It's very nice to know that the staff has been able to recognize everyone's accomplishments over the past year, and it's an honor to know that I'm one of those students that's been recognized as well," senior Isabella Morales said. 
Walking up the auditorium stage, students were greeted with a handshake from Gables' principal, Mr. Ullivari, and were given plaques or medals engraved with their names. To introduce these recognitions and their recipients, personalized speeches were tailored to each student's achievements, written by the Selection Committee and read as winners stepped up to pose for a picture.
Among the academic accolades given were awards of distinction for each grade level and the Principal's Award, an honor specifically given by Mr. Ullivari, while students with the highest GPA were handed gold, silver or bronze awards.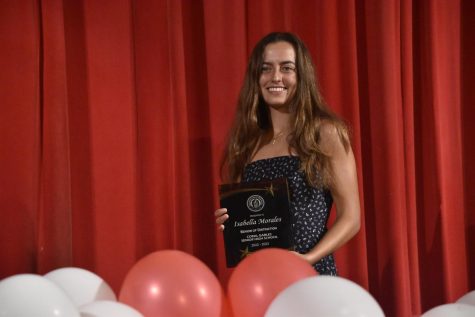 Additionally, the Dirigo award, coined after Gables' motto and Above and Beyond were both handed to leaders, while the You Make My Day award highlighted positivity and determination.
Aside from personalized plaques, other students received University Book Awards, illustrating that they embodied the institution's values from places like Brown and Harvard. 
"It's important for students to have incentives like the awards ceremony because it provides them with a reason to work hard and put in their best effort. It's a way to bring all students together and provide some with the confidence they might be actively seeking. After working so hard for a while, it's normal for people to lose track of the things they're working for. The awards ceremony is a good reminder that all of their efforts are appreciated," freshman Beatrice Stampino-Strain said. 
Only 34 students of Gables' Class of 2023, the top 5% in their class, were honored with the Summa Cum Laude award, presented in the form of medals. Recipients of this honor were also awarded chords to wear over their gowns at graduation. 
Out of the current 2800 students enrolled at Gables, only 115 received an award for their academic excellence and community involvement. Besides being mementos of their achievements, student awards encourage excellence and foment motivation, ultimately paving the way for their future.
Leave a Comment
Your donation will support the student journalists of Coral Gables Senior High School. Your contribution will help us cover our annual website hosting costs.
About the Contributors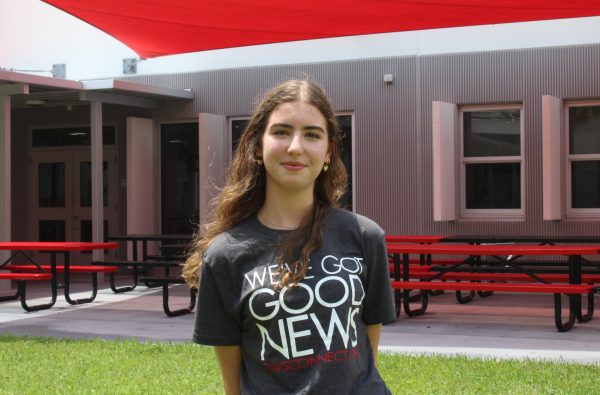 Marina Astorga, CavsConnect News Editor
As a sophomore in the International Baccalaureate program, Marina Astorga is excited to come back to CavsConnect for her second year in the publication....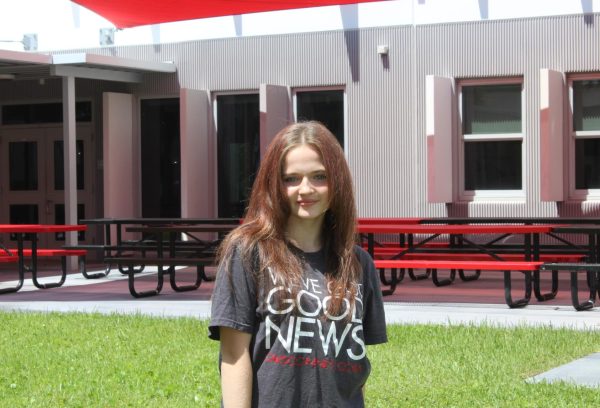 Kate Kuryla, CavsConnect Staff Writer
Kate Kuryla is a sophomore in the International Baccalaureate program who is excited to return to Cavsconnect for her second year as a staff writer. Aiming...