Project Victory Pushes ESE Students Into an Employed Future
The Exceptional Student Education Program has impacted the lives of many students who have disabilities throughout Miami-Dade County Public Schools. By providing the support and guidance these students need, many of them are looking towards a future in the workforce. For over 20 years, Ms. Feeney has been guiding them to find themselves at Coral Gables Senior High. With her dedication and the partnership of Project Vocational Instruction and Community Training Opportunities for Youth, her special needs students are currently on the road to success. 
Project Victory has been changing the lives of countless students across MDCPS. This project is designed for those who have acquired mild to moderate cognitive disabilities to reach employment as their post-secondary goal. Providing them with the opportunity of working early-on allows special needs students to prepare themselves for adulthood. At Gables, Project Victory has partnered with multiple companies including Nicklaus Children's Hospital, Publix and most recently, the City of Coral Gables.
"I think Project Victory provides ESE students with a sense of self-worth and importance, which a lot of them don't have all the time. By exposing them to the world of employment before graduation, many have formed a plan for after high school. Whether it be college or applying for new jobs, they will reach their own successes," Ms. Feeney said.
Students who are selected to work with Project Victory spend half of their day at one of the work sites and the other half at school. Depending on their personalities and social abilities, Ms. Feeney assigns them to the job she sees most fit. Those who work at Publix alternate between all departments, from bagging and cashiering to cleaning up the aisle. However, those who work at City Hall develop office skills such as scanning documents, inputting data on Microsoft platforms and planning out events. These jobs prepare them, with the skill sets necessary, to get hired later on. 
"
It is hard enough for people without disabilities to get hired, so just imagine how difficult it can be for kids with that extra challenge. With Project Victory, students can get the training they need for their futures. By the time they are officially done with high school, they will have resumes and job experiences that will make it easier for them to possibly get a job that is on their ability level,"
— Ms. Feeney
The past two years have been particularly challenging for Project Victory due to COVID-19 disruptions, but Ms. Feeney worked hard to ensure that her students would still have the chance to get a job. The weekend following the closing of school, she discovered Zoom, which immediately became a game changer in the educational environment. From 7 a.m. to 5 p.m., she was entertaining and educating her students by incorporating painting, exercise and discussions regarding business and job training into her daily virtual meetings.
"I really had to use my creative side during Covid to keep my students busy. I taught them things like how to make fliers, how to create business cards and how to prepare their resumes for job interviews. I tried to give them small tasks that they could learn a lot from. Covid was a tough time for all of us, but we were all able to get through it together," Ms. Feeney said.
Though nothing compared to hands-on learning, Ms. Feeney kept the unity of her special needs class throughout the pandemic. To better prepare them for life after quarantine and graduation, students were engaged in group discussions.
"Somehow I figured out a way to make quarantine a fun experience for my students, and I was surprised at how adaptive they were to it. They really missed being in the classroom, but we were all able to get through it successfully. I've never seen a group of kids happier to return back to school than them, and when we finally came back, it felt like our little family was reunited again," Ms. Feeney said.
Depending on whether ESE students are placed in a standard or modified curriculum, the majority of them participate in Project Victory until they are 22-years-old. Modified curriculum students are placed in the program once they are 18-years-old and standard curriculum students are placed in the program at the age of 16. Most of Ms. Feeney's students remain with her throughout the duration of the project, consistently practicing their real life skills and developing their capabilities. During this time, Feeney and her students established a feeling of family and camaraderie in the classroom. 
"Project Victory has helped me better understand how a work environment operates. They have taught us how salaries work, how shifts are planned and how everything is supposed to be arranged at a job. After I graduate and leave the project, I want to see what I can do for my future. Someday I hopefully want to become a YouTuber," senior Khris Jefferson said.
Not only has Project Victory created an inclusive environment for ESE students all across MDCPS, but it has also transformed the entire perception of people with cognitive disabilities. Those who once believed their disability would hold them back from the experiences of the real world have been proven wrong. Project Victory has leveled the playing fields between disabled students and standard students and will continue to do so for many years to come.
Leave a Comment
Your donation will support the student journalists of Coral Gables Senior High School. Your contribution will help us cover our annual website hosting costs.
About the Contributor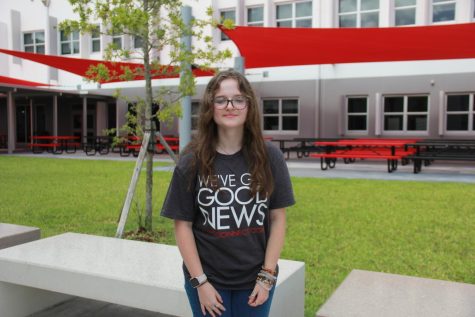 Kate Kuryla, CavsConnect Staff Writer
Kate Kuryla is a freshman in the International Baccalaureate program starting her first year at Coral Gables Senior High as a staff writer in CavsConnect....