Journalism Week Brings Excitement and Camaraderie to Gables Publications
Keeping the student body updated on school activities and world-wide dilemmas, Coral Gables Senior High's wide variety of publications, Highlights, Cavaleon, CavsTV, Catharsis and CavsConnect come together to provide fast and reliable coverage around campus. During the last week of February, students celebrated their writing passions and accomplishments throughout Journalism Week. Established 12 years ago, J-week is dedicated to celebrating scholastic journalism from writing to photography and videography.
"Journalism week allows not only the members of the publications to be heard, but it projects the voices of all students at Gables. It's an opportunity for kids to exhibit their opinions and perspectives freely, which I think would be so well suited to be spread way beyond these school walls," Catharsis advisor Mr. Rodriguez said.
Highlights, a student run news magazine brought a "Newseum" to life, displaying each publication's work throughout the years. This idea originated in a visit to the Newseum in Washington D.C. during a field trip for the National Scholastic Press Association Conference. As Highlights posted nostalgic pictures and displayed them throughout the school's hallways, students were taken for a blast to the past. Additionally, polls were displayed, emphasizing the importance of the student body's free speech.
Per usual, the Cavaleon ran a photography booth during both lunches to capture student interest and enthusiasm for journalism. Using props and throwing up poses, students' photos illustrated their Cavalier pride and spirit. Other groups like Catharsis worked on door decorating, while CavsTV devoted time to creating videos and thanking faculty and staff who have supported Journalism Week through the years.
"Journalism week is important to our publications, because it draws attention to them. Many students at Gables are not aware of the available publications, so J-week gives them an opportunity to display their skills and promote themselves while bonding and having fun," freshmen Alyssa Dopico said.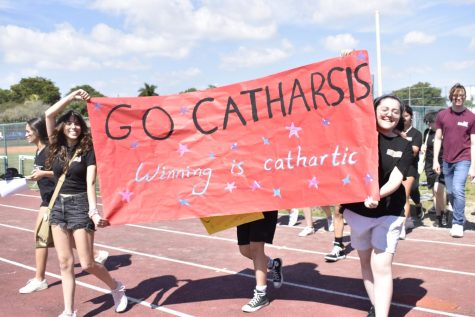 On Friday, journalists challenged each other to the Communication, Arts, Film and Digital Media Academy Field Day, hosted by Quill and Scroll. Organized by Maria Fernandez, president of the club, she spearheaded the day. Her entire board assisted with preparing all of the equipment for each game, ensuring the event ran smoothly.
"The whole board worked hard to make field day as much fun as we could. It took weeks of planning, and we tried to keep it as private as possible, so it could be a surprise for all of the publications. We decorated the field the whole day to make sure everything was set up beforehand and even got popsicles for everyone," senior Maria Fernandez said.
Wearing coordinating outfits and carrying decorated banners, each publication arrived at the field more than ready for an exciting competition. There were many different activities planned including a baton relay, a three legged race, a hula hoop race and an obstacle course. Each of these contests not only tested the physical prowess of the competitors but also encouraged a feeling of unity among participants. Regardless of which publication students were enrolled in, they all cheered for each other and displayed sportsmanship. To commemorate this day of fun and friendship, some journalists stood at the side lines to take countless shots of winners, runner-ups and everything in between.
"CAF&DM field day fosters collaboration and team bonding within the publications, and it's a really fun way to bring together all of our students. Many of them work so hard to record the memories and the history of the school year, and I hope that journalism week brings them a sense of pride and accomplishment from all of their efforts. They deserve to be recognized," Cavaleon advisor Ms. Zuniga said.
When field day came to an end, the overall winners of CAF&DM field day were announced. As Highlights took first place, screams could be heard from a mile away. Similarly, when CavsConnect was awarded "Most Spirited," cheers erupted on the playing field. Celebrating their time together, student journalists came together to cheer and uplift each other, regardless of the winner.
Throughout J-Week, publications were recognized for their special performances, both on and off the field. Taking countless hours to report back to the student body, the publications are hard at work throughout the entire year. This long-lasting tradition has always served as a reminder to Gables of the power its great journalists hold.
Leave a Comment
Your donation will support the student journalists of Coral Gables Senior High School. Your contribution will help us cover our annual website hosting costs.
About the Contributor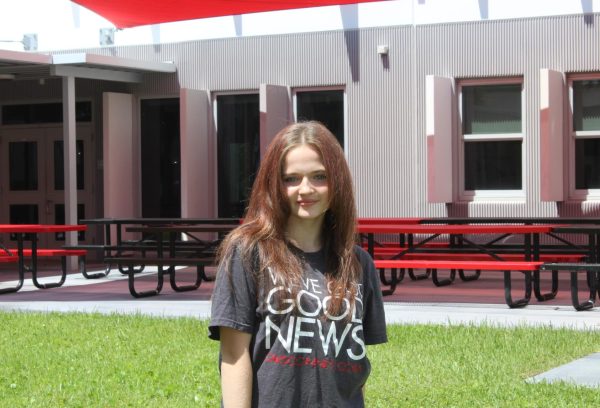 Kate Kuryla, CavsConnect Staff Writer
Kate Kuryla is a sophomore in the International Baccalaureate program who is excited to return to Cavsconnect for her second year as a staff writer. Aiming...