Incoming Freshmen Explore Gables during Academy Night
Shedding some light on the many academies at Coral Gables Senior High, academy night was hosted for incoming freshmen and parents to learn about what the school has to offer. Students from numerous middle schools in Miami-Dade County entered the gym and auditorium for informational sessions on the five academies. With a new school year coming up, it is essential for all Gables applicants to see just what makes the school unique.
Starting at 5:30 p.m., eighth graders from George Washington Carver Middle, Ponce De Leon Middle School and others spoke with representatives from each of the five academies: Business Management and Information Technology, Communication Arts, Film and Digital Media, Design, Education and Hospitality, Health Science, Public Service and Law and Visual Performing Arts. Each academy had their own tables set up with pamphlets and brochures that provided a brief overview of what makes them stand out.  Additionally, awards that were given to them over the years such as CAF&DM's various Best of School Newspapers Online awards were flaunted.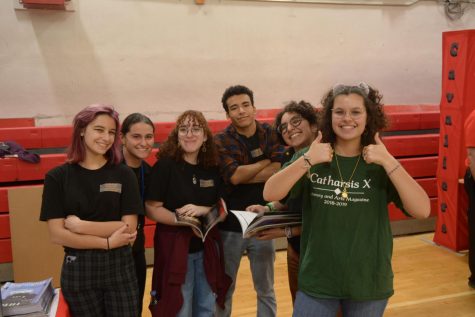 "Gables is the first high school I've visited that cared about keeping the spirit of students alive. Naturally, I was nervous at first but those feelings quickly washed away after a while," incoming freshmen Jennifer Fundora said.
Aside from the representatives at every table, students and staff members walked around, speaking to parents and incoming freshmen. The objective was to be as welcoming as possible so the guests did not feel intimidated; the event was designed to attract prospective applicants and engage them with the volunteers to figure out what academy suits their interests. Communication was therefore key, as volunteers from all grade levels needed to figure out what the guests were looking for to lead them in the right direction.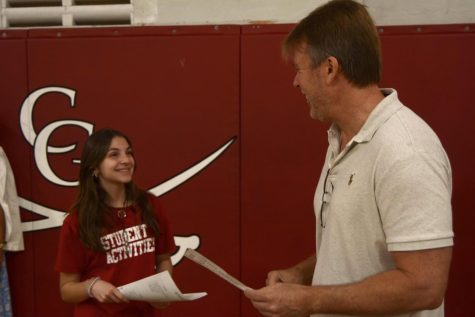 "The event was very exciting for me because I was able to see the incoming freshmen and even encourage some of them to take my class. I understand that sometimes they're not able to extract enough information solely looking online, so actually being able to speak with them made me happy," Ms. Luis said.
Each of the academies presented something different, thereby targeting various audiences which helps make Gables such a disparate school. In the search of a profession, high school is meant to prepare students for adulthood; these academies offer a series of certifications received upon the completion of certain courses. For example, students who take cooking can get certified in SerfSafe, a tool that helps when pursuing a career involving the food industry.
"I'm excited about the early child education program and how I might be able to get my Florida State Department of Children and Families since I love working with kids, I've always look forward to this and I've had my eye on Gables for a while," incoming freshmen Eliza Batista said.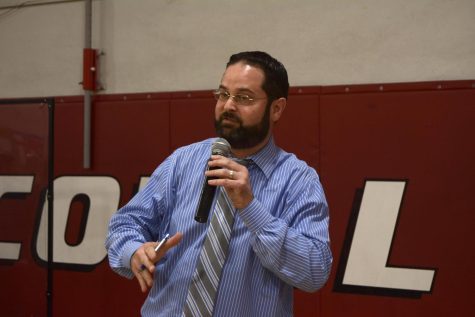 After the convention in the gym, parents and students were directed to the auditorium for an in-depth presentation by Ms. Figueroa, the assistant principal, discussing general information about the school.  The incoming students were encouraged to get involved in order to have the best high school experience possible.
All in all, there is more to Gables than what meets the eye. Although  the International Baccalaureate and Academy of Finance are most mentioned, they are not the only programs at Gables. There is something for everyone here, whether it is cooking in the kitchen or talking business among your classmates. The ultimate goal is for incoming students to feel welcome in their potential future home; all they need to do is keep an open mind.
Leave a Comment
Your donation will support the student journalists of Coral Gables Senior High School. Your contribution will help us cover our annual website hosting costs.
About the Contributors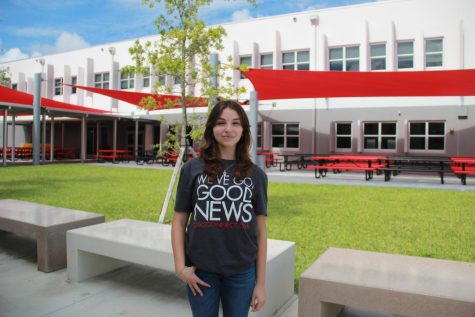 Melissa Hernandez, CavsConnect Staff Writer
Melissa Hernandez is a sophomore in the Academy of Finance at Coral Gables Senior High. Eager to leave Miami on a journey of higher education, she involves...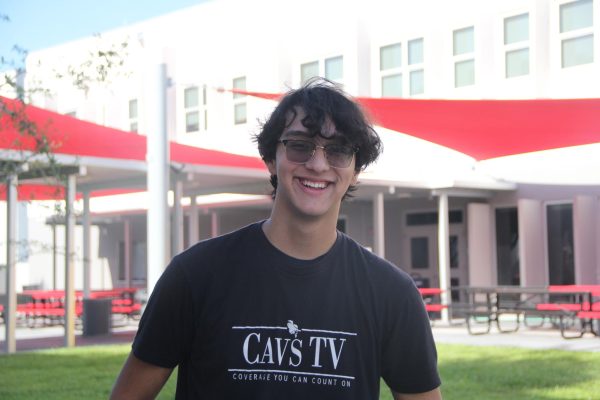 Matthew Castano, CavsTV Staff
Meet Matthew Castano, a talented junior in high school who serves on the boards of FEA, FBLA, and AOF. With a passion for videography and photography,...