Tyre Nichols Dies at the Hands of Law Enforcement
Tyre Nichols, a man who loved skateboarding and photography, spent his time working for Fed-Ex and taking care of his 4-year-old son. He had a tattoo of his mom's name on his arm, honoring their extremely close relationship. Every day for nine months, Nichols would take the second shift at work and return to his mother's house around 7:00 p.m. for dinner. The life that he built for himself was taken on Jan. 10, 2023, following an encounter with law enforcement three days prior.
On a Friday evening, five police officers from the Memphis Police Department stopped Nichols at a traffic stop on his daily trip to his mom's house. Accusing him of driving recklessly, the five police officers forcefully pulled Tyre Nichols away from his car. Suddenly, all five began to attack Nichols in a beating that lasted three minutes.
Police officers claimed to be posed by a threat, arguing Nichols showed resistance, even reaching for one of the officer's guns in retaliation. However, a body camera captured a video from the day of the attack contradicted the statements that described in the police report. Instead, Nichols exclaimed he had just wanted to see his mom. As they continued to hit him with a baton and pepper spray him, Nichols began to yell his last words before becoming unconscious. He was left with serious injuries including a broken arm and leg, and even fractured jaw and ribs.
The body camera footage out of Tennessee is beyond disturbing. What happened to Tyre Nichols was an obvious and excessive use of force, with the most tragic result. No one should be treated in this manner, especially by a law enforcement official.

— Governor John Carney (@JohnCarneyDE) January 28, 2023
"These police officers are abusing the rights that come with their jobs. The fact that they would assault Tyre Nichols for no good reason and then lie on the police report, as if they hadn't just murdered an innocent man is just inconceivable," sophomore Santiago Gonzalez said.
After the pummeling, two emergency medical technicians arrived at the scene, surrounding the man while he groaned in pain. Robert Long and JaMichael Sandridge had stood there to watch Nichols struggle, where as Lieutenant Michelle Whitaker stayed seated in the firetruck during the operation. Catching up with law enforcement instead of aiding the man, the EMT's were informed that Nichols was likely on drugs, despite there being no sign that this statement was true. 
After three days of hospitalization at St. Francis Hospital, Nichols did not survive. His autopsy showed that he had died from extensive bleeding, a result of the severe beating. Nichols's funeral then took place Feb. 1 at the Mississippi Boulevard Christian Church, and he was later buried in Memphis, Tennessee.
"It's unbelievable that officers would hit a man so badly that the beating would kill him. Tyre was innocent, and he would still be living his life if it weren't for those cops," sophomore Jimena Blazquez said.
EMT officers, Long, Sandridge and Whitaker lost their licenses, a decision that was made unanimously by the Tennessee Emergency Medical Services Board after reviewing their role in Nichols' death. The Police Department also took action, letting go the five officers who had physically assaulted Nichols at the traffic stop. Those same officers, Demetrius Haley, Desmond Mills Jr., Tadarrius Bean, Justin Smith and Emmitt Martin III, were later charged with second-degree murder on Jan. 26. 
On Jan. 27, the body and surveillance camera footage were released to the public, angering many civilians. As a result, Tyre Nicols's story has been blasted on social media, setting off protests around the nation. Protesters take to the streets to march and honor the memory of Nichols, continuing the fight against racially motivated police brutality.
"The death of Tyre Nichols is a tragic reminder of the far too common pattern of violence against Black people in America," junior Hassan Shahid said.
Leave a Comment
Your donation will support the student journalists of Coral Gables Senior High School. Your contribution will help us cover our annual website hosting costs.
About the Contributor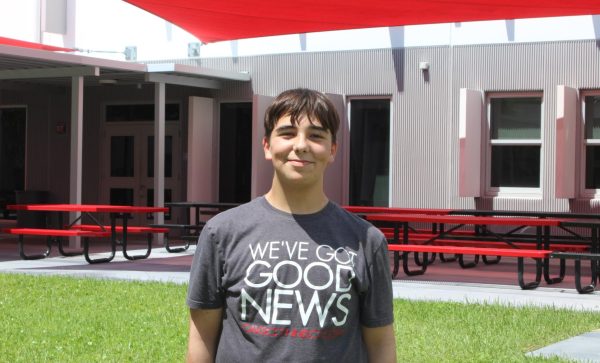 Joseph Abrahantes, CavsConnect Features Editor
Joseph Abrahantes, a sophomore in the International Baccalaureate program and second year member of CavsConnect, is excited to come back as the publication's...