High-Stakes Play: Injuries in the Football Scenes
American football has been a prime part of American culture for decades, becoming the most popular sport in the country. In recent years, however, it has become evident to football fans all over the world that pain and disabilities have close relation to this contact sport. From minor injuries such as sprains, dislocations and broken bones, to major, life-threatening collisions, the football community has seen it all.
Contact sports, such as football, have the possibility for serious harm, even after the years of experience a top athlete may have. Over 1.1 million football injuries are thought to occur each year in the United States alone. About 550,000 of these injuries occur in college and professional football, with 600,000 in high school alone. Sprains and strains are the most frequent football injuries, followed by concussions and fractures.
"Our coaches always emphasize to 'play like it's out last game,' and they're right. We never know what might happen on the field, especially when we see accidents like Hamlin's every couple of weeks," sophomore Billy Saleh said.
On Jan. 2, the American football community was left shocked after an injury left 24-year-old player, Damar Hamlin, unresponsive on the field. Moments before the incident took place, Hamlin tackled opposing player, Tee Higgins, making abrasive contact with Hamlin's head and chest. He appeared to recover quickly, standing up seconds after his fall, however, he fell backward moments later. Immediately, the player went into cardiac arrest as medical personnel attempted to resuscitate Hamlin. He was later rushed to the hospital where he remained in critical condition. As both teams began to exit the field, the NFL communicated that they had five minutes to practice before the game resumed. The teams disregarded the instructions, heading to the hospital to accompany the injured player instead.
"
Damar Hamlin's accident just goes to show that football players of all levels are putting themselves in danger every time they buckle their chinstraps.
— senior Reynaldo Gimenez
Scrutiny on the National Football League has intensified significantly to what some believe is their negligence concerning players' health. While many more protocols have been adopted by the NFL in order to combat serious injuries, such as working with manufacturers to create sturdy equipment and implementing their very own concussion protocol, recent events have continued to raise concerns about whether players' well-being are truly valued.
"For a long time, it did not seem like the NFL was truly taking into account all the concerns about players' injuries, even when fans were basically screaming it in their faces. Thankfully, they made some changes," senior Reynaldo Gimenez said.
When students athletes here at Coral Gables Senior High are suspected to have a major head injury, such as a concussion, they must go through a process to ensure their safety. Depending on the athlete's injury, the process may differ slightly, but it usually begins with a general evaluation. The player are asked about their symptoms and assessed on their basic neurological functions. If the athlete is deemed concussed, they are put on recovery, which can last anywhere from three weeks to six months. In the event that one does not present all the symptoms of a concussion they are placed on "concussion watch" until further symptoms develop.
"Even in sports that are considered as rough as football, like basketball, concussions are taken really seriously. My friends and I have been on concussion watch multiple times and for the most part we were ok after. It's good to see that our health is valued and they take precautions in order to prevent serious injuries," freshman Jasmin Abu said.
The NFL's injury protocol has certainly been changed over the years, but recent events have teams and players asking for more. As time goes by and the NFL continues to take strides in player safety, rules will be adjusted. As of now, however, the NFL prides themselves in supplying team with top-of-the-line equipment designed to prevent injuries, as well as having route protocols and installments to ensure the health of players.
Leave a Comment
Your donation will support the student journalists of Coral Gables Senior High School. Your contribution will help us cover our annual website hosting costs.
About the Contributor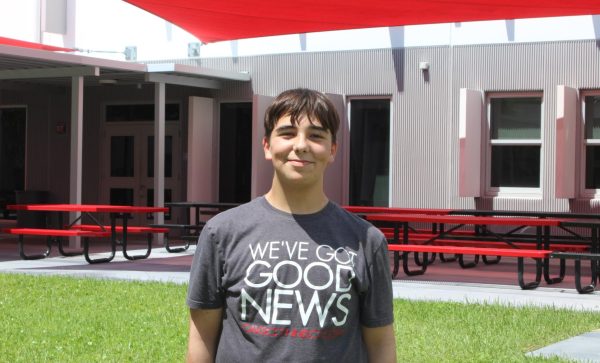 Joseph Abrahantes, CavsConnect Features Editor
Joseph Abrahantes, a sophomore in the International Baccalaureate program and second year member of CavsConnect, is excited to come back as the publication's...