The Class of 2022 Rides into Grad Bash
Embarking on the classic graduate tradition, the Coral Gables Senior High seniors celebrated their final year of high school with a class trip to Orlando's Universal Studios and Islands of Adventure. As the Class of 2022's "Grad Bash" commenced, seniors fastened their seat belts for the final getaway and enjoyed the ride.
On the morning of Feb. 17, the seniors officiated the field trip at Universal Islands of Adventure. After walking past the famous Universal Studios World Ball, the upperclassmen began their final venture together as they made their way into the lines of Men in Black, Alien Attack, the Hogwart Express and other attractions.
Alongside the seniors, various teachers joined in on the fun to help ensure the day went smoothly. As a token of appreciation, senior David Kuper bought Universal-themed gifts for the chaperones, giving Biology teacher Mr. Molina a "Best Grandpa" award while Psychology teacher Mr. Nelson and History teacher Ms. Landsea received "The Simpsons"-themed coffee mugs.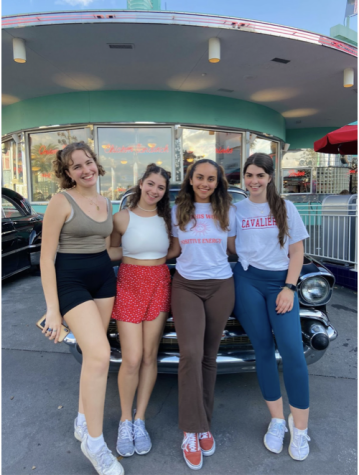 "I am certain the videos and the memories we have will never be able to be recreated. So I think people are really appreciative of the trip," senior Melanie Estrada said.
Once the day came to a close at 6:30 p.m. the students made their way to the Hyatt House Universal, a hotel right across the street from the park. While the thrill rides were closed at night, the seniors did not stop making memories as they were able to room with their closest friends at the hotel.
Organized by the student council president and class president, Melanie Estrada and Nataly Leiva, the exclusive two-night trip was the ultimate show of appreciation for the senior class. The two students, united with Activities Director Ms. Suarez, had worked since November to plan the special event.
"Our goal was mainly to make up for what we had lost the past year with Covid: no trips, no events, no interactions. I wanted the Class of 2022 to remember that soon enough we will be graduating and that we should appreciate every little event and moment we all have together as much as possible," senior Nataly Leiva said.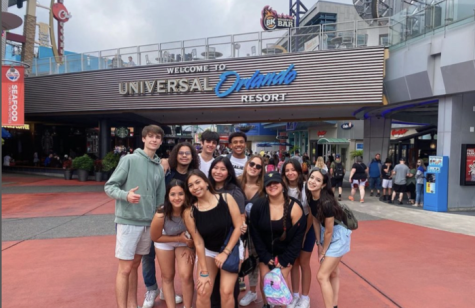 Despite the concern surrounding COVID-19, the senior class was still able to continue on with the trip. After the recent mask mandate, masks were optional in the park, allowing students to to follow the safety precautions at their own discretion.
Bringing back the Grad Night tradition, the Class of 2022 cemented their time as Cavaliers on the two-night adventure. Although the seniors made the most of their final few months as highschool students, their legacy as Cavaliers is one thing that will never end.