Governor DeSantis Announces Phase 3 of Reopening
Governor Ron DeSantis announced that the state of Florida will be moving onto "Phase 3" of reopening business and the lifting of restrictions. Being home to over 21 million people and having one of the largest population densities in the country, Florida quickly became a hotspot for COVID-19 and has reported just under 702,000 cases since the pandemic started. With states and nations struggling to properly and safely open up their economies, this plan has become quite controversial.
DeSantis made the decision Friday to open up business restrictions and halt mask related penalties while in St. Petersburg, Florida. By signing Executive Order 20-244, he is allowing restaurants to immediately begin operating at 100% capacity with as many social distancing protocols possible and removing obligatory mask-wearing and the penalties associated with it. The order supersedes all local ordinances, stating all businesses have "the right" to operate at a minimum of 50%.
The move to Phase 3 would also include the reopening of public high schools in person as early as Oct. 5.
"If a local (government) restricts between 50 and 100 percent, they've got to provide the justification and they've got to identify what the costs are involved with doing that," DeSantis said.
In his press conference announcing Phase 3, DeSantis presented a chart listing the survival rates of the average person of different age groups that read, "0-19: 99.997% 20-49: 99.98% 50-69: 99.5% 70+: 94.6%" based on the Centers for Disease Control.
Although his plan describes the complete removal of COVID-19 restrictions, it also outlines that those above the age of 70 and/or with pre-existing medical conditions are encouraged to continue to practice social distancing and mask-wearing, if they or their physician deem it necessary for their health.
"I think opening up the economy is good for businesses and people in general. Hopefully, this plan works out as beneficial to the state, and at the same time, public health is not jeopardized; only time will tell," sophomore Alberto Rodriguez said.
The state has recently seen a large drop in daily cases and deaths with 14-week lows of both. Infection rates have also gone down to 0.99 per 100,000, suggesting COVID-19 is no longer rapidly spreading throughout the state. The number of people testing positive for COVID-19 has also reduced, with a positivity rate of 10.9%.
The number of Intensive Care Units beds being used is also at an all-time low since the pandemic started. Miami-Dade specifically, the states' largest county, is also very low in infectivity rates based on a study by the Harvard Global Institute, ranking 23rd although it being the most populous county. The worst county ranked first in the state is currently Union County with 63.8 people infected per 100,000 and a COVID-19 positivity rate of 64.4% according to CovidActNow.
"Florida is recovering from the pandemic, this executive order, however, is a risk to the lower cases and deaths we've been seeing thus far. The Governor should be careful in the steps he takes and should minimize risks as much as possible for Floridians," sophomore Gonzalo Lopez said.
Ron DeSantis is moving forward with his Phase 3 with an executive order, effective immediately, based on the recommendations and studies provided to him provided by the CDC and other medical sources including practicing professionals and United States Census Data.
In time, the state will see if this was the correct decision, and if public safety is in harm's way. This course of action will possibly pave the path for states who will also eventually open up their economies and can use Florida's plan and results as an example.
Leave a Comment
Your donation will support the student journalists of Coral Gables Senior High School. Your contribution will help us cover our annual website hosting costs.
About the Contributor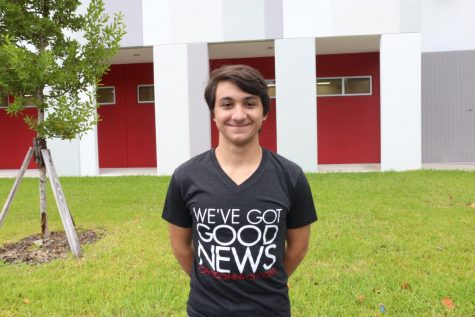 Massimo Aguila, CavsConnect Staff Writer
Massimo Aguila is a junior in the International Baccalaureate program returning to the CavsConnect for a second year. He expresses strong interests in...