Free Athletics Physical – Tuesday July 16th
Attention all Cavalier athletes! Do you want to play high school sports? If so, you will need an athletic physical to receive eligibility to play.
Coral Gables Sr High will be hosting its first of two free athletics physicals on July 16th, 2019. Doors will open at 4:00 P.M in the cafeteria of the three-story building at the rear of the campus.
Student-athletes are required to bring with them the physical form which can be downloaded and printed from the page provided by
this link
There will be a notary on site the day of the physical. The cost for the notary is five dollars, and this sum must be paid in cash only. The physical must be notarized in order for the doctors to complete the physical. A parent or legal guardian must be present with picture ID in order for the notary to notarize the physical form. The physical form may be notarized prior to the physical date, in which case would not require the aforementioned parent or legal guardian to be present.
The doors to the cafeteria will promptly close at 5:00 P.M. The physical typically takes a few hours, depending on the number of student-athletes needing the physical. We are usually done at 7:30 PM. Parents are welcome to wait, or return later.
About the Contributor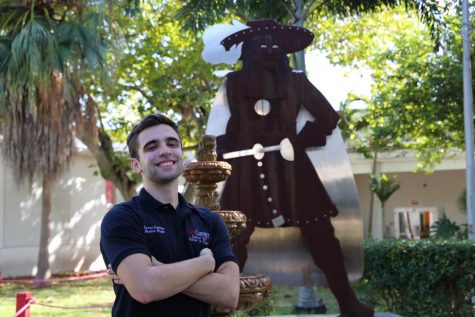 Daniel Toll, Co-Editor-in-Chief
Daniel "Danny" Toll, is a senior in the International Baccalaureate (IB) program at Coral Gables Senior High. In what will unfortunately be his last year...