Get to Know Your Clubs!
As the fall season approaches, there is much anticipation on campus about which clubs to join this academic year. With club fair just around the corner, the halls begin to buzz and questions arise concerning the specifics of each club. This list will provide a preview of the amazing 2018-2019 Gables clubs.
Art Club
Art club is where artists of all levels come together to build off each other. This is the club for anyone interested in art and even for those who only enjoy looking at it.
Best Buddies
Best Buddies is a service club that pairs club members with special needs students. There are many events and field trips members go on with their buddy, and members are able to build lasting friendships.
Speech & Debate
Debate club gives members the opportunity to perfect their public speaking skills and develop their arguments. If you enjoy discussing certain topics with just about anyone, join Debate!
French Honor Society (FHS)
The French Honor Society devotes their time to offering community service opportunities and teaching their members about French language and culture. They also offer to tutor for those looking to learn or perfect the language.
"I am really excited for French Honor Society's second year and I cannot wait to meet all the new members," senior Eve Adan said.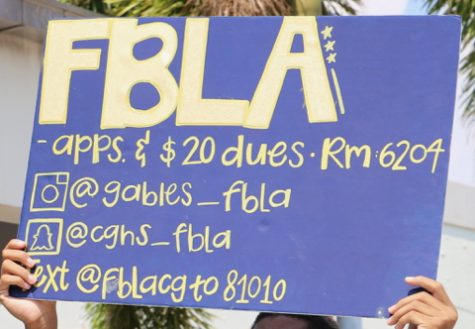 Future Business Leaders of America (FBLA)
FBLA challenges all students interested in business and incorporates public speaking and computer programming. There are multiple opportunities to participate in district and national competitions.
Gables Bhangra
If you are interested in dance and want to perform in pep rallies and school assemblies, then join Gables Bhangra! It is based on Indian culture and can be a great stress reliever!
Gables Earth
Reduce, reuse and recycle! This is Gables' environmental movement that spreads awareness about the Earth and everything we can do to protect it. They have beach cleanups and awesome presentations on environmental topics at every meeting. There's even a spot for yoga lovers in their bi-weekly yoga sessions.
Gables Paradigm
This club is for LGBT+ students and allies to know that they have support and a safe space here at Gables.
Health Information Project (HIP)
Are you passionate about health and teaching others about it? Join HIP! HIP consists of peer health educators that go to freshman classrooms once a month to teach their fellow peers important health topics. They also serve as another ear to support the new students on campus.
IB Honor Society (IBHS)
IBHS is a club for all IB and pre-IB students who have a passion for community service. There is Adopt-A-Freshman (AAF) after general meetings to offer support to freshman and for upperclassmen to answer any questions for them. IBHS is also responsible for hosting the school's annual fundraiser, Bridge for Peace.
Interact
Interact! Interact! Interact! Interact is a service club that organizes events for breast cancer week, awareness project, and many outside activities. They are also responsible for Valentine's proposals.
Key Club
Key Club primarily promotes service through drives and community events. If you are looking to get involved on campus or in your community, Key Club is the one for you.
Model United Nations (MUN)
If you enjoy debates about global politics like refugee crisis and border disputes then join Model United Nations. In teams, you represent a country with the delegates in your team and you discuss different issues pertaining to your country assigned.
Mu Alpha Theta (MAO)
MAO is for those students passionate about mathematics and wanting to help others. Members tutor three times a week and participate in competitions with other MAO clubs in the district.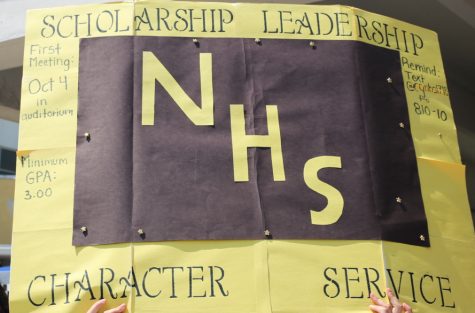 National Honor Society (NHS)
This club requires a 3.0 GPA and for members to be actively involved in community service. Members graduating get to wear the golden rope for graduation!
National English Honor Society (NEHS)
NEHS is for all the bookworms on campus. Members share a love for reading and literature. Do not miss out on their monthly poetry slams!
National Spanish Honor Society (NSHS)
National Spanish Honor Society is back and better than ever. This club offers community service opportunities and is perfect for anyone interested in learning about Spanish culture and proud of their Hispanic heritage.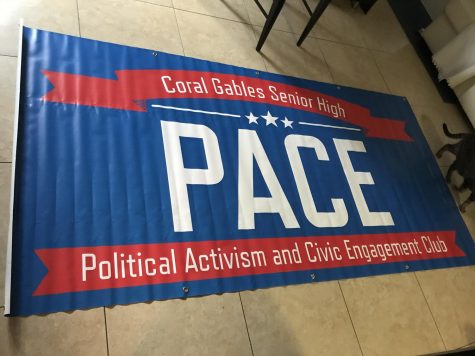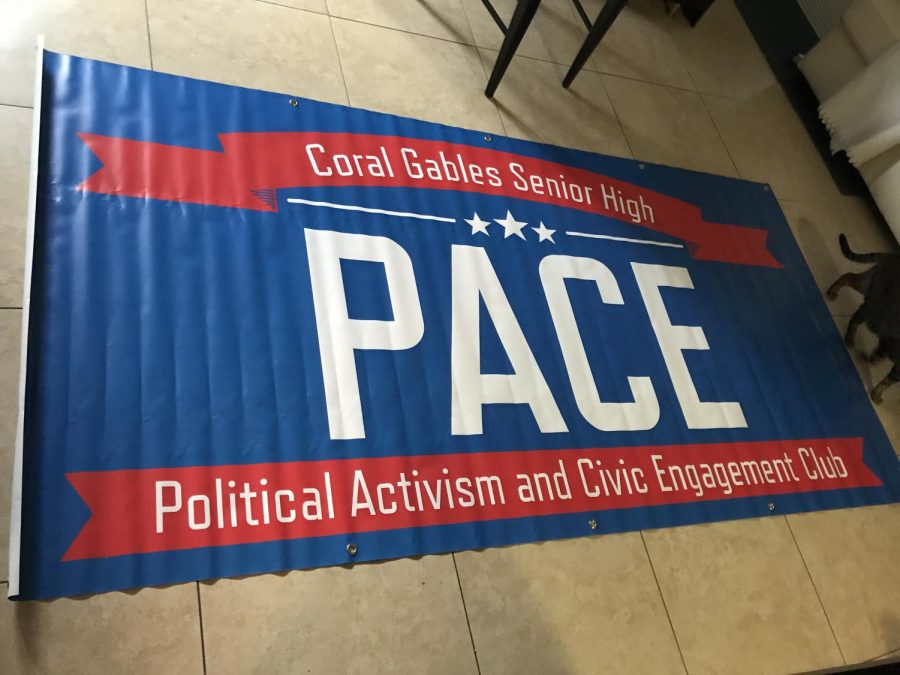 Political Activism and Civic Engagement Club (PACE)
One of the new clubs on campus, PACE, is the club for you if you are passionate about politics and controversial topics. Members will be debating with each other and there will be numerous opportunities and connections to get involved in politics by working in democratic or republican campaigns as interns, fellows, or volunteers. Members will also be able to attend political events like marches.
"I am excited the club is coming to Gables because I think it is long overdue. It is a very interesting political time to start it and I cannot wait to see where I can take it this year as president," senior Nikita Leus said.
Science, Engineering, Communication, Mathematics, and Enrichment (SECME)
SECME is for those students interested in STEM fields and who are looking to participate in competitions with others in the district.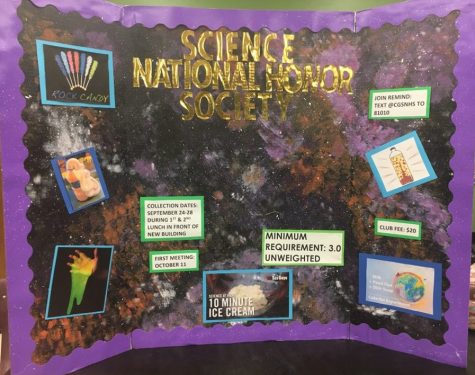 Science National Honor Society (SNHS)
If you love your science classes and want to learn more, join SNHS! Every club meeting involves science experiments, treats and scientific discussions that will really intrigue you. There are also many field trips including one to the Frost Museum of Science. Do not miss out!
W.I.Z.A.R.D. Club
W.I.Z.A.R.D. Club is here for its second year and is for all those who love board games and video gaming.
There are many opportunities to get involved on campus and joining a club is the first step. Make sure to sign up at club fair this Friday, Sept. 14th during your lunch! There are an abundant amount of clubs that cover a wide range of interests and hobbies. Get involved!
Leave a Comment
Your donation will support the student journalists of Coral Gables Senior High School. Your contribution will help us cover our annual website hosting costs.
About the Contributors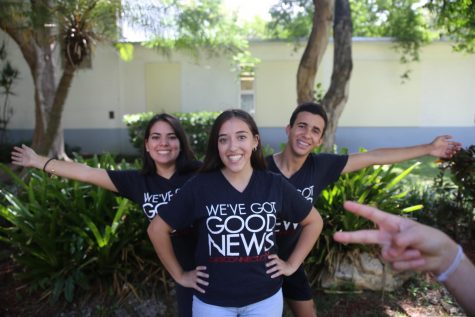 Adriana Castro, Staff Writer
Finally a senior in the International Baccalaureate (IB) program at Gables, Adriana "Adri" Castro is excited to embark on her new journey as a CavsConnect...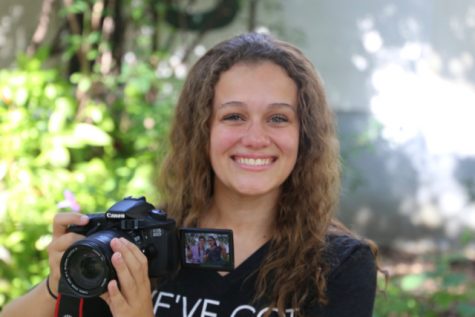 Cameryn Padron, Multimedia Editor
Cameryn Padron is a senior in the IB program. Cameryn is starting her fourth year working for Cavsconnect and her second year as the new Multimedia editor....