Royal Wedding – American Actress Joins the Royal Family
Hang on for a minute...we're trying to find some more stories you might like.
Prince Henry of Wales and American actress Meghan Markle officiated their marriage after nearly two years of dating in a stunning ceremony at Windsor Castle on Saturday, May 19. Markle, who reportedly first met Prince Henry during a blind date in 2016, renounced her acting career and became the Duchess of Sussex surrounded by 800 guests in the Gothic splendor of St. George's Chapel.

The ceremony beautifully blended the traditions of the 1,000-year monarchy with modern elements chosen by the young couple. The location varied from the usual Westminster Abbey in London but maintained its formal Anglican nature with a passionate sermon by Bishop Michael Curry about the power of love.

"The Royal wedding showed a lot of English cultural traditions, which have been in place for centuries, but also had more modern parts, such as the wedding dress," freshman Andres Garcia said.

Speculation about who would walk Markle down the aisle, as her father would not be attending, was answered when it was announced that she would walk herself half the way, while Prince William, the Duke of Cambridge, and Prince Harry's father, Prince Charles, would accompany Markle for the remainder.

After the couple exchanged their vows, Karen Gibson and The Kingdom Choir performed Ben E. King's soul classic "Stand By Me" and a gospel choir sang "Amen/This Little Light of Mine" as the newlyweds left the chapel.

Among the well-known attendees of the royal wedding were international tennis star Serena Williams, American entertainer Oprah Winfrey, David and Victoria Beckham and, perhaps most controversially, Prince Harry's ex-girlfriend of seven years: Chelsy Davy.

The much-anticipated event attracted viewers from 180 countries, including 18 million Britons, 10 million Germans and 29 million Americans. Though the event was met with enthusiastic viewership all around the world, it had a special place in the hearts of many Americans as they watched Markle become the first American in the royal family since Wallis Simpson in 1936. The student body demonstrated their enthusiasm by attending viewing parties or waking up early to catch the 7:00 am (Eastern Time) ceremony.

"It is a big deal because Meghan Markle was just an actress living in America when she met Prince Harry. Now she is a part of the royal family and represents the United States internationally," freshman Daniela Velasquez said.

The newlywed Duke and Duchess of Sussex have decided to delay their honeymoon, as they will be attending Prince Charles's 70th birthday party at Buckingham Palace on Tuesday, May 22. Though the honeymoon location has not been released to the public, it is rumored to be an African safari.

Following the trip, they will resume their royal duties by "supporting The Queen in her many State and national duties, as well as carrying out important work in the areas of public and charitable service," as stated on the official Royal Family website.

[powr-social-feed id=c40fe856_1527254615788]
About the Contributors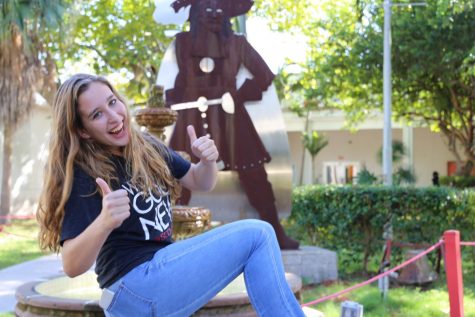 Chase Bagnall-Koger, News Editor
Chase Bagnall-Koger is a Junior in the International Baccalaureate (IB) program who is excited to be returning to CavsConnect for her second year as as...