Horror Strikes Again
Hang on for a minute...we're trying to find some more stories you might like.
A month after the shooting at Marjory Stoneman Douglas High School, Great Mills High School in Maryland suffered a school shooting at the hands of student Austin Wyatt Rollins. Rollins brought his father's Glock 9-millimeter to school, injuring two students: Jaelynn Willey and Desmond Barnes.

Willey was injured with a cranial gunshot wound and passed away March 22. Her family decided to remove Willey from life support after she was pronounced brain dead.  Her injuries, which at the time were not yet revealed, were described as "grave" by the sheriff's office. Barnes, who was shot in the leg, was discharged Wed. March 21 from the hospital as he appeared to be in a stable condition.

It has been reported that Rollins and Willey had a prior relationship to the shooting; however, Rollins intentions have not yet been made clear. As police sorted through his social media accounts and spoke to various neighbors and students who knew Rollins, they were not able to find any statements prior to the shootings in which he revealed or hinted at his plans.

"I was troubled to hear what happened in Maryland. It seems like just yesterday we were mourning the lives lost in Parkland. I am speechless and deeply saddened by what happened," sophomore Katherine Sanchez said.

Shortly after the first shots were fired, the school instantly moved into a lockdown state. As the police officers began to evacuate the school, students were transferred to a reunification center at a nearby high school where they sought refugee and awaited the arrival of a parent-guardian.

Rollins was pronounced dead after a confrontation between the school's resource officer, Deputy First Class Blaine Gaskill. Rollins and Gaskill fired shots almost simultaneously, however, Gaskill was not injured. It has not been confirmed if the shot fired by Gaskill was what killed Rollins or if he took his own life. Sheriff Tim Cameron from St. Mary's County praised Gaskill for his quick response, stating "he responded exactly as we train our personnel to respond". Because Rollins was confronted quickly, he was not able to harm more students.

"I hurt for the students of Maryland who had to experience something that simply put is cruel. Now more than ever we need to come together and do whatever we can to stop school shootings which are hurting America's youngest and brightest," said senior Audrey Aragon.

The school had just taken part in the nationwide moment of school walk-outs calling for common sense gun laws. Almost a month earlier, Marjory Stoneman Douglas experienced the similar events when Nikolas Cruz left 14 students and three teachers dead.  The shooting also comes in the wake of a nationwide gun control debate, with one of the central issues being the question or whether or not teachers should be armed.  Some believe this serves as an example of the good that arming teachers can do, while others remain vehement opposers of such policies.

[powr-social-feed id=c5fcec39_1522023110222]
About the Contributors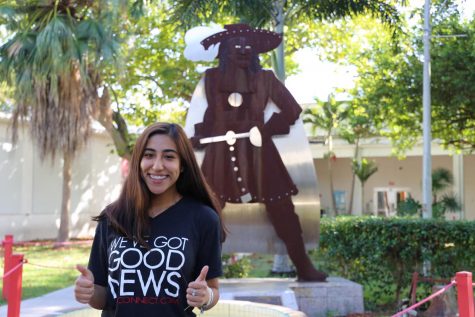 Jesse Zambrano, Spotlights Editor
Jesse Zambrano is a senior in the International Baccalaureate (IB) program. When she arrived to the US, it was clear to Zambrano how important it was to...