Diversity Day 2018
On Friday, Mar. 9, Gables Paradigm (GSA) attended Diversity Day, a program instituted by Safe Schools South Florida to provide information to teens about the community. A few students chosen by the GSA board were allowed the opportunity to attend the event at the Coral Gables Congressional Church and represent the club. However, students all over the Miami-Dade and Broward district took part. Other schools in attendance were Miami Senior High, Hialeah Senior High, Mater Academy and Cutler Bay Senior High.
"I love going to Diversity Day. This year my brother tagged along and to see him talk with other students and be himself was a joyous moment for me," junior Ana De la O said.
Booths run by LGBTQA+ representatives shared information on safe sex, emotional stress, guidance and coming out in a safe environment; these are a few of the issues teenagers who are part of this community face as they grow up. Aside from offering help to students who may not know where to seek out the information that they are looking for, these booths provide volunteering opportunities. On these volunteering days, students are able to socialize and participate in events revolving around themes prevalent to the LGBTQA+ community. Several organizations including the Lotus House, the Florida International University Board of LGBT affairs and the Outshine LGBT film festival provided the students with resource materials in a fair-like style.
After the mingling, students sat down inside and listened to a presentation from District 9 representative Laurence Feldman, who spoke of the importance of recognizing the "in-unison struggle"-the idea that rather than face the struggles of an LGBTQA+ individual alone, individuals can join a community of people who empathize and may offer a new perspective on said struggles.
"I think as teenagers we have a mutual understanding of the struggles the LGBTQ community faces. What should not come as a shock though, is that many of us are going through similar ordeals. I think this is the point Mr. Feldman was trying to make. Because of the "in-unison" struggle we all suffer through, we are not alone and when we realize we are not alone, we can reach out to a community that is ready to listen," sophomore Ariadne Herrera said.
In the afternoon, the LBTQA+ Troupe group, The Living Colors took the stage for a powerful performance. Their act began by shouting profanities that gay teens hear on a day-to-day basis, and later explaining the derogatory nature of the word. Then, the actors formed the same line and stood side by side. Towards the end, they again shouted words, however this time, they were words of kindness. From left to right, the actors on stage smiled at the audience and suggested that they too remember these kind-hearted words rather than those with a negative connotation.
Throughout the day, students took part in an enriching learning experience where they were surrounded by individuals who care about the future of LGBTQA+ youths. During this empowering seminar, students were able to socialize with other students and speak of obstacles they have had to overcome as members of this community.
Leave a Comment
Your donation will support the student journalists of Coral Gables Senior High School. Your contribution will help us cover our annual website hosting costs.
About the Contributor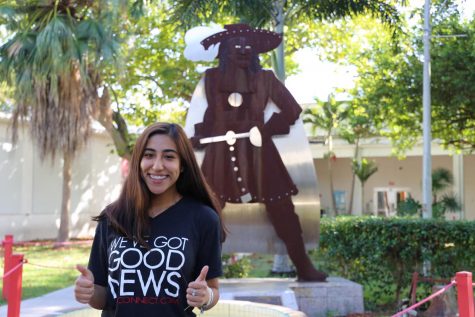 Jesse Zambrano, Spotlights Editor
Jesse Zambrano is a senior in the International Baccalaureate (IB) program. When she arrived to the US, it was clear to Zambrano how important it was to...