Class of '67 Donates $16,000 to their Alma Mater
Hang on for a minute...we're trying to find some more stories you might like.
Members of the Coral Gables Senior High School Class of 1967 returned to their alma mater on Sunday, Jan. 28, for a ceremony held to thank them for their donation of more than $16,000. The donation was used for purchases of TV monitors and a "state of the art" digital score table for the gym. The donation was spearheaded by Mr. Soto, a '67 alumnus, who hopes the donation will be useful in "helping the school and its current and future students" as well as inspiring to other alumni that would like to make donations to the school. The funds were gathered from excess reunion funds and personal donations on behalf of alumni.
"Some of the money is going to be used towards getting a new scorer table. The current one is very old and the new one will help with the scoreboard and overall image of the basketball program at Gables," sophomore and junior varsity basketball player Cameron Payne said.
Attendees were greeted by PTSA staff, the boys' basketball team and CavsConnect staff members as they viewed a video of staff and students thanking them for their contribution. They were then led to the auditorium for a brief reception, put together by the PTSA, complete with food and drinks. Mr. Johnson, a member of the City of Coral Gables Educational Committee, once again thanked the guests for their dedication to their alma mater and encouraged them to continue being involved while also recruiting other classes to get involved as well.
"Gables High School faculty, staff, students and the PTSA greatly appreciate the generous donation from the Class of 1967 and the wonderful example this sets for the current students to remember to take care of their alma mater in the future," PTSA President Parmalyn Jacob said.
Guests were then led on a tour of the school by Mr. Evans and Mr. Finora, who was working at the school when the Class of '67 graduated.  For many, this was their first time back at the school, and they expressed their bewilderment as they noted that the school looks very similar to when they graduated. What was new for many, however, was the Ralph Moore building, built in 2001 where the parking lot used to stand, and several improvements to the infrastructure and design of the school. Alumni told current students stories of their high school years: of attending a school that did not have air conditioning, of being allowed to go off-campus for lunch and of the wonderful experiences the school provided for them.
CavsConnect thanks the Class of 1967 for their dedication to ensuring that the school continues to excel in every way and encourages other classes to follow in their footsteps.

About the Contributor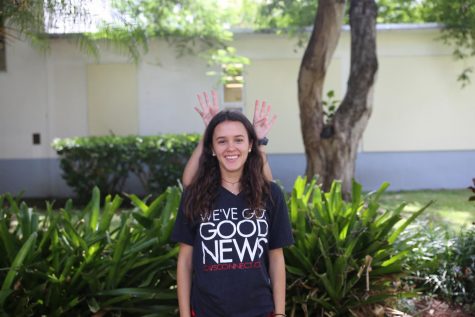 Natalia Torres, Copy Editor
Natalia,"Nati", Torres is a senior in the International Baccalaureate (IB) program and is very excited to continue at Gables as part of the CavsConnect staff. Apart from her involvement in CavsConnect, Nati is President of Gables Earth, secretary for the Senior Class Board and manages the school's coral lab.
Aside from her involvement with the school, Natalia enjoys volunteering at Shake-A-Leg, spending time with her friends and practicing yoga. She enjoys learning and is always looking for ways to expand her knowledge about the world.
Natalia has a passion for protecting the environment and hopes to one day pursue a career as an environmental lawyer in New York City.  Although she is usually busy with school, she always finds time to be with her family, her friends, and her two cats, Figaro and Gaby.