Emmy Nominated Director Turned Sexual Predator
Several sexual assault allegations have been made against award-winning director Harvey Weinstein after the release of an explicit audio recording on Oct. 10. According to Ronan Farrow, the reporter from The New Yorker who broke the story, about 13 women have openly confessed that they have been victims of Weinstein's actions. Due to these alleged sexual assaults, he is currently under investigation by the London and New York Police.
"The women did the right thing in coming forward because it's disgusting that we have to live with men doing these things, free on the streets and not be able to do anything about it," sophomore Leyani Palmer said.
Ronan Farrow spent over 10 months completing a thorough investigation of Weinstein's possible sexual misconduct. Farrow revealed that after Weinstein had inappropriately touched Italian model Ambra Gutierrez, she contacted the police, who agreed to wire her on the day she was going to meet up with him in his hotel room. The recording revealed Weinstein persistently attempting to force her into the shower, despite her repeated refusal. Actress Asia Argento and aspiring actress Lucia Evans have also both admitted to being raped by Weinstein. Argento had not gone public with her story until now because she feared Weinstein would destroy her and her career if she disclosed the details of their encounters. In addition, Farrow's investigation revealed that many women signed non-disclosure agreements, leaving them essentially unable to speak up.
"
The women were scared because of his power and it took courage to stand up against him. They have helped others who maybe would have been assaulted by him in the future."
— sophomore Lia Rodriguez
Many have taken to social media to express their outrage and accuse him of being a rapist who abused his power. However, his spokeswoman made a statement claiming that he has never forced a woman to do anything they did not consent to. After the New York Times article last week, Weinstein apologized for his behavior, but he is threatening to sue the New York Times for their recent statements which he feels are damaging. Many are also calling on actors who have worked with him to take a stand against his actions. As of now, most who have made public statements have been females in the industry, with the exception of a few males such as Seth Rogan. On Oct. 7 Rogan tweeted "I believe all the women coming forward about Harvey Weinstein's sexual harassment. It takes bravery to do so."
As a result of Weinstein's allegations, four of his employees have resigned, citing disapproval of his misconduct as the reason for this. Not only did he lose his workers, but it has been reported by Jodi Guglielmi that after 10 years of marriage, his wife Georgina Chapman is considering leaving him. The New Yorker's report on Weinstein has also led to Weinstein's termination at the Weinstein Company. The London police and NYPD are working alongside officers from the child abuse and sexual offense command center to find the truth in the midst of so much chaos.
Leave a Comment
Your donation will support the student journalists of Coral Gables Senior High School. Your contribution will help us cover our annual website hosting costs.
About the Contributor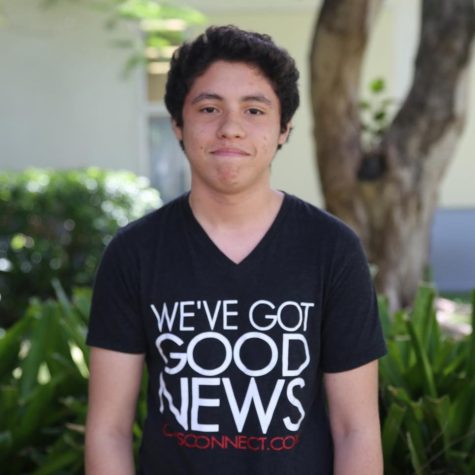 Miguel Lemus, Staff Writer
Miguel Lemus is a junior in the International Baccalaureate (IB) program at Coral Gables High School.  Lemus is excited to see what the school year will...