The History of DACA and Dreamers
On Tuesday, Sept. 5, Donald Trump called for the repeal of DACA, disappointing many around the country: especially the approximate 800,000 immigrants known as "Dreamers".
The term "Dreamer" was coined as a result of the legislative bill DREAM, which stands for Development, Relief and Education for Alien Minors Act.  It was first introduced in 2001, but was not approved by Congress at first.  In 2007, it was once again considered by Congress to provide a possible way for immigrants to receive permanent residency, but was too denied. The act was reconsidered in 2011, but failed to pass Congress for the third time.  By 2013, the Obama Administration had come up with a different plan: DACA.
DACA stands for Deferred Action for Childhood Arrivals and is an immigration policy first created in June of 2012.  It allows certain illegal immigrants, known as Dreamers, to apply to receive a two-year time period of deferred action, which is an immigration benefit granted to people who are in removal proceedings, final orders of removal or who have never been in removal proceedings. Essentially, the period of deferred action allows Dreamers to defer deportation and remain in the U.S. for two years with the ability to renew this benefit later on. These applicants are eligible for employment, drivers licenses, bank accounts and must even pay income taxes. However, the program does not necessarily grant them the opportunity of possible permanent residence or citizenship.
"I think what Trump did concerning DACA was cruel and heartless. Those people have been paying taxes and helping this country daily by working hard and now they are facing being deported, and that is not right.  It disgusts me to know that my president and a group of other people who agreed to his decision are responsible for that," freshman Paola Villafuente said.
In order to be eligible for DACA, childhood arrivals must fall under the following criteria: the person must be under 31 years of age since June 2012; must have come to the U.S. before age 16 without inspection of visa status before June 2012; must have been physically present in the U.S. on June 15, 2012; cannot have been convicted of any serious offense or misdemeanor; do not pose a national security threat; are currently in school; graduated from high school or have obtained an honorable discharge from the Coast Guard or Armed Forces.
The U.S. Department of Homeland Security denied an expansion of the program in June of this year, but kept DACA as a program. However, three months later, on Sept. 5, the Trump administration decided to start working to shut down the program as a whole.  The implementation of this shutdown would not occur until six months from this date, seeing as Congress is trying to find a solution to accommodate those who were eligible for DACA.  According to Elaine Duke, Homeland Security Secretary, no more requests for applications for the program will be acted upon, although this only applies for those who do not yet have DACA; those who are in the program are eligible to apply for renewal if it is done by October 5, 2017.  Almost 800,000 people would be affected by this termination.
"
I believe that Mr. Trump's recent decision regarding DACA is a very poor example of what our country stands for. Trump's decision is cutting more than funds and legal status for so many young people, it is also cutting hopes, dreams, and an image of openness that America has worked so hard for. Many of my students have benefited from DACA. I truly fear what may be in store for them based on Mr. Trump's decision.
— chemistry teacher Elizabeth Kiely
During the campaign, President Trump vowed to dismantle DACA, yet once in office he stated that "DACA is a very, very difficult subject for me, I will tell you. To me, it's one of the most difficult subjects I have because you have these incredible kids."  A week prior to announcing his plans to terminate the program, he was asked whether Dreamers should be worried, to which he responded "We love the Dreamers."  Yet a week later he released a statement explaining that DACA will be removed, but with "heart and compassion."  It is unclear what will remain of this program in six months, but for now, many organizations, such as the ACLU, are fighting for the rights of these Dreamers.
Leave a Comment
Your donation will support the student journalists of Coral Gables Senior High School. Your contribution will help us cover our annual website hosting costs.
About the Contributor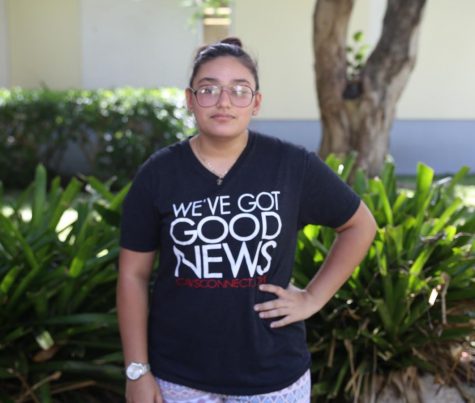 Daymara Fernandez, Staff Writer
Daymara Fernandez is a staff writer for CavsConnect. This is her second year in Coral Gables Senior High and a sophomore in the International Baccalaureate...