Hurricane Harvey Horrendously Hits Texas
Hang on for a minute...we're trying to find some more stories you might like.
On Aug. 30, 2017, history was made with the arrival of Hurricane Harvey to Texas's shores. The natural disaster is currently flooding many cities including Houston, Victoria, Austin, Corpus Christi and San Antonio, with some areas being hit worse than others. Rivers, highways, houses, buildings and many other things have over flooded, adding to the frantic situation and clogging street drains, rendering them useless. More than 100,000 people have been displaced from their homes and have been forced to seek refuge in megastores, churches and shelters if they were not able to evacuate on time. Harvey, a category four hurricane, has been named to be the worst the country has ever seen. Most of the rain and flooding caught meteorologists by surprise, which made the situation worse, as many were unprepared for the dangers of the storm.
So far, officials have reported that Harvey has claimed the lives of 38 civilians. Numbers may rise as tactical teams and volunteers continue to search through city blocks looking for people in need of rescuing. Many citizens were unable to leave their homes because the storm arrived as they were evacuating, trapping them in their houses as the water began to rise in the streets.
"
What's happening in Texas right now is very sad. As prepared as you might be for any type of disaster, nature is unpredictable and that's exactly what happened. I hope the people of Texas are able to remain strong and hopeful as they live through something so grim. They will be in our prayers."
— Raquel Dwight
Dallas, Austin and San Antonio have opened several shelters as they begin to receive refugees from the flood. Unaffected citizens and surrounding state neighbors have also opened their doors, offering aid and shelters to families.
"It is very nice to see everyone coming together in the wake of Harvey, offering help, money and some even risking their lives by going out to the streets and doing what they can," sophomore Billy Fay said.
Organizations such as the Red Cross, All Hands and others are on site offering aid, food, water and medical assistance. Artists such as Beyonce, Kevin Hart, Dwayne Johnson and DJ Khaled have donated money to organizations devoted to helping out during natural disasters and have asked their fans to do the same. American actress Sandra Bullock has donated $1 million dollars to the Red Cross Relief funds. A former resident of Austin, Bullock said: "we have to take care of one another". Rappers such as Drake, Nicki Minaj and T.I have used their social media influences to raise awareness and money for organizations operating out of Houston, Texas. Social media platforms have been used to bring attention to the devastating effects of the hurricane, uniting people from all around to donate what they can. Miley Cyrus and her organization, the Happy Hippie Foundation have donated $500,000 and opened up their website to donations, which will all be given to relief funds. To donate and help those affected by Harvey click here.
Other organizations one can donate to are:
All Hands (click here)
Salvation Army (click here)
Houston Humane Society (click here)
Americares (click here)
About the Contributors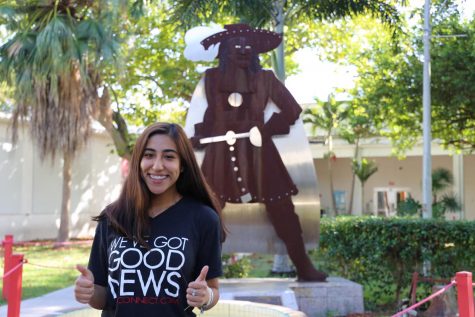 Jesse Zambrano, Spotlights Editor
Jesse Zambrano is a senior in the International Baccalaureate (IB) program. When she arrived to the US, it was clear to Zambrano how important it was to...