Madness in Venezuela
Since April 1st, 20 people have been killed in violence and demonstrations. Also, dozens of people have been injured and even thousands detained. What has brought millions of Venezuelans into the streets is huge food shortages, large rates of crime and inflammation, and censorship. The economy is expected to shrink by 7% this year-making matters worse for the country and its citizens.
"Venezuela is such a genuinely beautiful country, I have so many childhood memories there. Watching what is happening to my country and my people is so heart breaking. I am happy that people are fighting back, and I have hope that better times will come", senior Gabriela Rivas said.
Current president, Nicolas Maduro has been been the head of this heated political argument between the citizens of Venezuela and the government. The fastest way to take Venezuela out of its misery is to speed up the timing of 2018 elections and have current government officials resign. This is the best interest of Venezuela especially because the Vice President was just sanctioned by the United States for his alleged involvement in drug trafficking.
As of now, Maduro has deployed tear gassed, mostly rubber bullets, agaist large groups of protesters. His newest decision was to arm and mobilize half-million-strong citizen militia in order to prevent risks of greater violence.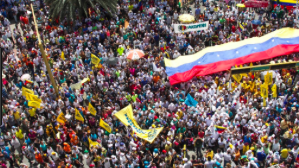 In order to restore glory to Venezuela, pressure from protests on the streets need to be supported by the country's neighbors. Groups like the Organization of American States and the United Nations, must make it clear to Maduro's government that there will be consequences for its failure to uphold democratic standards, such as their membership in the Mercosur trading block.
"I have much love for Venezuela and my family that lives there. It's hard to see the country going through such hardship and hopefully things will get better with time," said junior Juan Hurtado.
Overall, for Venezuela to make any progress, protests marches must have a wholesome purpose and must provoke the resurgence of elections. Otherwise, more lives will be lost and tragedies will lead to no progress.