Tragedies: April 2 – 8
Domestic Affairs
Four dead and more injured in St. Louis boiler explosion
At 7:30 a.m. on Monday, April 3, an explosion at Loy-Lange Box Company left four dead and more injured.  The blast spewed debris through several buildings, leaving one person initially killed, and sending a large piece of debris through the factory roof, killing two others.  The fourth person to pass away did so as a result of complications from his injuries at St. Louis University Hospital.  It is currently unclear whether someone was working on the boiler at the time of the blast, but foul play is not suspected, according to St. Louis Fire Chief Dennis Jenkerson.
International Affairs
St. Petersburg train blast
An explosion on the St. Petersburg Metro in Russia on Monday afternoon left 14 dead, dozens injured, and more traumatized.  The blast struck on a crowded metro train at around 2:40 p.m. as Vladimir Putin was visiting the city.  The attack has been deemed by Putin, who expressed his condolences, as a "possible terror attack", although he believes it would be premature to speak about the causes as they are "not clear yet".  Shortly after the detonation, authorities located and defused a second bomb left at another metro station.  The Russian Investigative Committee was able to match the DNA on that bomb to Akbarjon Djalilov, a 22-year-old suicide bomber.
Syria chemical attack leaves dozens dead and hundreds more injured
More than 80 fatalities have resulted from what is being considered the worst chemical attack in years.  Witnesses and activists have reported that warplanes dropped bombs in Khan Sheikhoun, south of the rebel-held territory of Idlib, early morning on Tuesday, April 4.  The explosion sent a yellow cloud into the air, leaving many who inhaled the choking and dead.  Symptoms of victims who were exposed to the gas include foaming from the mouth, constricted pupils, blue facial skin and lips, and asphyxiation.  The World Health Organization has stated that it believes the attack to have been one involving chemical weapons, but it and the Organisation for the Prohibition of Chemical Weapons are unable to confirm anything until samples are tested.  Despite this, doctors and humanitarian organizations believe the attack to have involved the nerve agent Sarin, seeing as the symptoms were consistent with exposure to such, and once given an antidote for Sarin poisoning, victims' conditions became stable.  The attack was carried out by the President of Syria, Bashar al-Assad, who has received intense criticism for these actions by countries including the United States and the UK, while others such as Russia and Iran vow continued military support for him and his government.
"
This past week has seen many tragedies and deaths, but the chemical attacks in Syria are what have horrified me the most. The pain that the victims and the families of the victims must have felt is unfathomable to me, and even more horrifying is that the attacks were carried out by the country's President. The international community needs to take a stand to ensure these attacks do not continue."
— Angelle Garcia
ISIS executes 33 people in Syria
On Wed. April 5, ISIS executed 33 people in eastern Syria in what is believed to be the "largest execution operation carried out by the Islamic State organization in 2017″ according to The Syrian Observatory for Human Rights.  The attack was carried out near the city of Deir Ezzor with the use of 'sharp tools".  Activists from the group were "able to monitor" the incident and report that the executed included people between the ages of 18 and 25.  It is unclear at this time whether the victims belonged to rebel factions, Syrian government forces, or allied militia.
Stockholm truck attack kills four
On Friday afternoon, a stolen truck barreled through a busy street in Stockholm, leaving at least four people dead and about 15 more injured.  Swedish authorities arrested and are holding a man on "suspicion of terrorist crimes through murder", making this what appears to be the continuation of a trend which involves use of a vehicle being as a weapon of terror in Europe.  The suspect, a 39-year-old man from Uzbekistan, hijacked a beer truck as it made a delivery, and drove it quickly along Queen Street before crashing into a department store.  Authorities have found a bag of undetonated explosives inside the truck, as well as a device "that doesn't belong there", and are currently investigating its content. Prime Minister Stefan Lofven is regarding this incident as an attack on Sweden, stating that "Everything indicates this is a terror attack".
"This terror attack is very scary, especially since it's not the first time terrorists have used vehicles to attack cities in Europe.  The whole situation worries me a lot, but I am relieved that they have a suspect in custody" said freshman Sydney Lingenfelser.
Palm Sunday church bombings in Egypt
ISIS has claimed responsibility for bombings at two Coptic churches in Egypt on Palm Sunday that have killed 36 people thus far, which mark the latest attacks against Christians in the region.  The bombings took place at churches in the cities of Tanta and Alexandria and were carried out by "a security detachment" of the Islamic State, according to ISIS' Amaq media wing.  Despite the terror group having taken responsibility, their involvement can not currently be confirmed or denied.  The first blast came from an explosive placed under a seat in the prayer hall in a church in Tanta, killing 25 people and wounding at least 60 others.  Shortly after, a suicide bomb attack outside a church in Alexandria took the lives of 11 people and wounded 35 others.  The President of Egypt, Abdel Fattah el-Sisi has condemned the attacks in a statement which called for the Egyptian people to remain resilient "on their trajectory to realize security, stability and comprehensive development".
Leave a Comment
Your donation will support the student journalists of Coral Gables Senior High School. Your contribution will help us cover our annual website hosting costs.
About the Contributor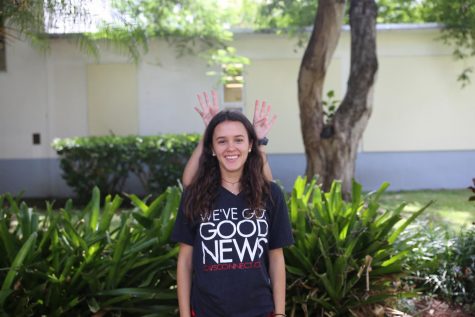 Natalia Torres, Copy Editor
Natalia,"Nati", Torres is a senior in the International Baccalaureate (IB) program and is very excited to continue at Gables as part of the CavsConnect...