Earthquake in New Zealand
On Nov. 14, tragedy struck in a country that is usually out of the limelight.  Kaikoura, a city in New Zealand constantly bustling with tourism, experienced a 7.8 magnitude earthquake, followed by over 1,500 aftershocks in two days, killing two and injuring an indefinite amount of others.  The city is a popular tourist destination, specifically for whale watching during this time of the year, and was currently housing around 1,200 visitors, in addition to 3,500 residents. The tremors led to wave surges, which resulted in emergency tsunami warnings for the residents of at risk areas.  New Zealand and other countries' forces are at work to help to evacuate those who were or will be affected by these natural disasters.
The results of the earthquake have been catastrophic. Although, residential housing has not been as greatly affected as areas such as roads.  Emergency roads had to be established in order to gain access to Kaikoura, due to the massive amounts of landslides that resulted in a relative isolation of the town.  Over 10,000 landslides have taken place since Monday morning, when the initial shock took place.  Residents were also left bereft of water and power, in addition to damage to buildings and homes, although aid was quickly provided.  Apart from the devastation caused by the earthquake, tsunami warnings that followed have forced the displacement of thousands of people who have become susceptible to injury resulting from this imminent threat.
In response to the catastrophic events, many countries have come together in an inspiring manner, to aid New Zealand in its recovery.  Australian, U.S. and Canadian warships on route to Aukland for a 75th anniversary celebration for New Zealand honorably diverted their path to offer help in the recovery effort.  Other countries, such as Japan and Singapore, have offered their assistance in this trying time. Cleanup crews have begun their difficult tasks, and military troops have established access to towns which, due to the landslides, would otherwise have been impossible to reach.  Evacuations have been taking place throughout the week, using those roads which are navigable, as well as air and ocean access.
This earthquake, specifically the foreign response that it induced, serves as a clear example of the way in which we all must be united, and what can be accomplished when everyone bands together for a common cause.  New Zealand may take years to recover from this devastation, but the aid that other nations provided certainly has helped reduce this sentence, even in potentially saving the lives of thousands.
About the Contributor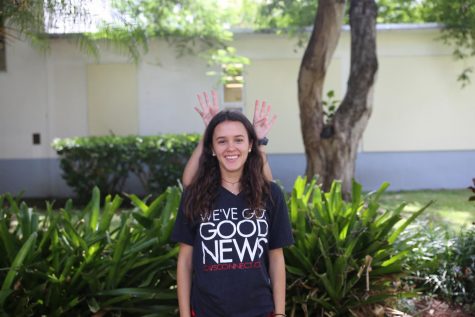 Natalia Torres, Copy Editor
Natalia,"Nati", Torres is a senior in the International Baccalaureate (IB) program and is very excited to continue at Gables as part of the CavsConnect...