Prom Royalty: Alyssa Lamadriz & Alain Guerra
Hang on for a minute...we're trying to find some more stories you might like.
Prom, without a doubt, is the event that most students have looked forward to since their freshman year. On Apr. 14 the marvelous night full of dancing was well-spent by the senior class, anxiously awaiting graduation, as they all headed to the JW Marriot. Additionally, the long-standing tradition of announcing Prom Queen and King was continued as Alyssa Lamadriz and Alain Guerra were presented with the honor of receiving such titles that represent the love their fellow classmates have for them.
Meet the Prom Queen:
Alyssa Lamadriz, commonly referred to as 'Meech,' is known for her energetic, funny personality. Lamadriz is a senior at Gables who made sure to be involved in high school and has dedicated a lot of time and effort to the many clubs and sports here at Coral Gables. For Lamadriz, the most memorable year of high school has been her senior year as it is the last year she can spend with friends before they leave for college. Aside from this, Lamadriz's senior year has been one for the books because of the senior activities Gables has to offer, her personal favorite being Gradbash. Moreover, she is proud to say that she will be joining Florida State University's graduating class of 2022 in the fall. However, before leaving for college, she wants to spend as much time as possible with her family and friends. Additionally, when asked what her expectations for FSU are, she mentions how she wants to get involved to ensure that her experience at college will be as memorable as her experience at Gables.
"High school, in general, has been the best experience of my life. I loved it and lived it to the fullest. It was honestly a great time; I had some hard times, but overall it was amazing," Lamadriz said.
Winning Prom Queen was one of the most exciting accomplishments Lamadriz has ever experienced, making her prom night one to remember. Receiving this honor made her feel special and loved by those who she considers to be family. Aside from winning Prom Queen, Lamadriz thinks that dancing with her friends was a highlight of her prom experience. She also loved seeing everyone all dressed up and looking beautiful—even though they always look beautiful according to Lamadriz.
"Prom was so much fun, the food was so good. I don't think I should've eaten that much, but it was just so good. I honestly had a blast, the music was great and being there with my friends was a great experience," Lamadriz said.
Meet the Prom King:
Guerra, who is a senior at Gables, is mostly known for his accomplishments with the varsity baseball team. Although he wasn't expecting much going into senior year, it turned out to be an amazing year where he focused on working hard to accomplish his goals. Guerra's main goal is to play college baseball, as well as improve his grades. Out of the four years he has spent in high school, junior year is the one that he will forever remember since it was the year the baseball team was one game away from going to states, which was a huge accomplishment for the 2016-2017 team.
"Junior year had to be the most memorable because of how many new friendships I made and how many friends I became closer with," Guerra said.
Aside from baseball, Guerra is also involved with Student Activities. He is very proud and extremely thankful that Ms. Suarez and everyone in Activities accepted him as one of their own since the first day. Despite not knowing where he is going to go to college, Guerra knows that his final goal is to play baseball for the school's team. Moreover, he is very excited to graduate high school because he wants to go out into the real world and make his own decisions.
Winning Prom King was something that Guerra didn't expect. When he found out that he won, he gave his crown away to his friend, Jacob Garcia, because he wanted to do something nice for Garcia, who has been a good friend to Guerra.
This year's prom king and queen are two individuals who will continue as true Cavaliers long after their graduation date. They will continue to spread school spirit and relay positive energy in their post-secondary education and onward.

About the Contributor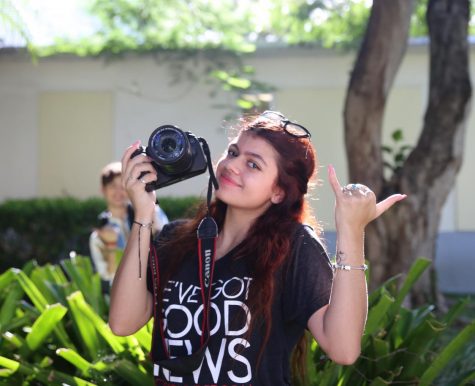 Gabriella Torna, Photographer
Gabriella "Gaby" Torna, is a senior in the International Baccalaureate (IB) program at Coral Gables Senior High. As a photographer for CavsConnect,  Gaby...