Jessica Roman: An Educator and Adventurer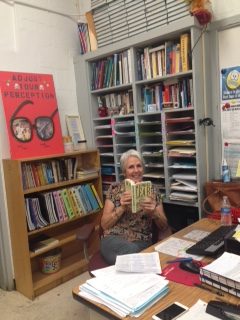 Hang on for a minute...we're trying to find some more stories you might like.
A woman of many talents, Jessica Roman is more than just a phenomenal English teacher, she is the teacher every teacher should aspire to be.  Her classroom is well-known for its academic rigor and for her devotion to making sure her students succeed.  Born and raised in New York City, Roman migrated to the Sunshine State in order to expand her roots.  Mother of three, her passion for teaching comes from being an interactive parent and wanting to expand her impact beyond her home.  Roman has been teaching for 18 years and has been a proud Cavalier for the past 15 years.
"What I love most about Gables is the range of the academies and opportunities for the kids.  We have a very diverse student body, so there's nothing monochromatic or mono-ethnic, it's really diverse.  I think that's an important experience for teachers as well as students, and I think the range of the eight-period day is really unique and contributes to a very vibrant life here on campus, " Roman said.
Although grading keeps her busy, Roman enjoys gardening, sewing, fashion, literature, drawing and painting in her spare time.  A travel junkie, Roman also takes delight in discovering the world.  She has been to 49 states and journeyed through the Galapagos Islands, Easter Island and the Amazon, among many other places.  In fact, she plans to continue venturing, in addition to volunteering, after retiring next year.  Experiencing new cultures has been a hobby of hers since her memorable family vacations through the United States.  Since then, Roman finds herself exploring new places whenever she can.
"I've learned to appreciate the vast diversity that is our global community, and that we really need to be globally connected.  The world today does not allow isolation; we really need to learn about and be sensitive to the vast differences economically, culturally, ethnically that create the global community.  We need to be actively part of that community," Roman said.
Roman has harnessed the Cavalier identity and left a significant impact on Gables through her founding of the International Baccalaureate Honor Society (IBHS).  Although she still has a year until retirement, Roman plans to continue leaving her mark on society through community service.  A mother, wife, artist, wanderer and model teacher are all words to describe Roman.
"[Roman] has not only been a phenomenal teacher but a guide towards success for me throughout my four years.  I remember having her freshman year and she was truly the first teacher to tell me what the International Baccalaureate (IB) was about.  I will always remember her constant support and guidance," senior Claudia Figoroa said.
Roman has impacted many students and has shown them all the beautiful intricacies in the English language and literature.  Teachers like her enrich the high school experience.

About the Contributor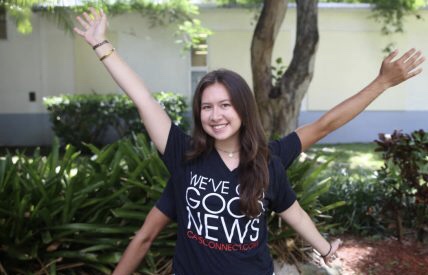 Maria F. Estrada, Editor-in-Chief
Maria Estrada is a senior in the International Baccalaureate program at Coral Gables Senior High who loves a good debate and cup of coffee. As her role...