Micaela Montero Becomes a UPenn Quaker
Applying to top-notch universities is a primary interest for seniors looking to study in nationally-recognized programs. International Baccalaureate senior Micaela Montero has committed to the University of Pennsylvania after being accepted through Early Decision on Dec. 15., finally attaining an opportunity that she had been working toward her whole life.
Throughout her four years at Coral Gables Senior High, Montero has shown her well-roundedness through her involvement in various clubs and activities. As a dedicated member of clubs like the Future Business Leaders of America and Gables Earth, she organizes and participates in several community service events to support her community.  As a staff writer for Highlights, she involves herself with Gables by reporting campus news in their magazine. Montero is also a member of the Miami Rowing Club, where she participates in competitions and partakes in service activities.
"Even when I first met Mica when she joined Highlights, she was so full of light and happiness and she was always full of ideas. Seeing her mature over time and finally achieve her dream of making it into such a great school like UPenn makes me feel like a proud mother. She deserves everything that she has worked for, and UPenn is lucky to have her," Ms. Gonzalez said.
During her time in Highlights, Montero learned about advocacy through her writing. She has since engaged in protests organized by her rowing club. These protests led her to speak at town hall, teaching her the inner workings of government in the process. Beyond that, she earned an internship at an art gallery in Spain, which helped improve her work ethic. Ultimately, these experiences influenced her decision to major in Philosophy, Politics and Economics at UPenn.
"
Honestly, I wasn't really expecting anything the day of the results, but I was still extremely nervous. I remember having to go on a run to ease my mind as the time came, and my friend was constantly reminding me how much time was left until the results came out. I was extremely shocked when I saw that I got in and so excited that I went to tell my parents immediately,
— senior Micaela Montero
Montero first displayed her interest in UPenn very early in her life, as her mom was a graduate student from the university. She grew comfortable with the idea of attending the same university and continuing her mother's legacy. She was also interested in attending because of the school's prestigious programs in political science and finance. During her junior year, she visited the campus and fell in love with it, truly seeing a future for herself at UPenn.
During the application process, Montero was nervous when starting her application for UPenn since this was her lifelong dream. Despite this, she wrote her personal statement about her internship in Spain and how it opened up new perspectives on art and politics. Eventually, she completed the three required supplements shortly before the due date and submitted her application early in November.
"I put off my UPenn application until the last week that it was due because I was just very nervous and I felt so much pressure on that specific application since it was my dream school. I constantly changed my ideas and edited everything so many times so that every detail would be perfect. UPenn is where I want to be, so I wanted to make sure my application was done as best as possible," senior Micaela Montero said.
On Dec. 15, the day of the early decision results, Montero waited in anticipation of what would arrive later in the evening. Wanting to open her admission letter alone when the moment came, she isolated herself before the release of the results. As soon as 7 p.m. arrived, she opened the letter and was ecstatic to find out that she was accepted into her dream school.
With her college ambition finally being achieved, Montero is determined to make the most of her next four years at the University of Pennsylvania. She plans to become more educated and involved with her passion for politics and hopes to attend graduate school or possibly law school in the future. As Montero prepares for her journey as a Quaker, she can do so knowing that she is living out her lifelong dream.
Leave a Comment
Your donation will support the student journalists of Coral Gables Senior High School. Your contribution will help us cover our annual website hosting costs.
About the Contributor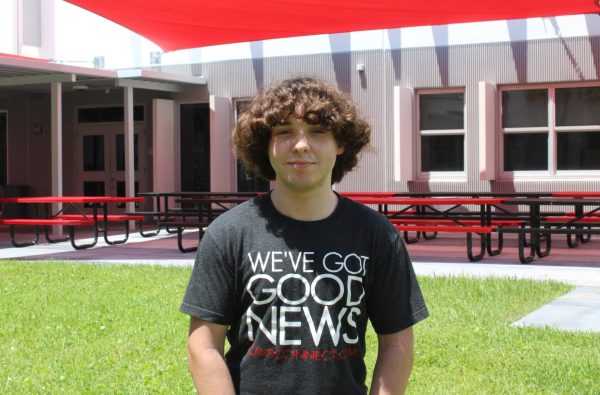 Anthony Fajardo, CavsConnect Staff Writer
Anthony Fajardo, a junior in the International Baccalaureate magnet program at Coral Gables Senior High School, is gearing up for his third year as a writer...