Alumnus Raul Flores Returns to his Cavalier Roots
After graduating from Coral Gables Senior High, Raul Alejandro Flores, a Gables alumna, returns to school grounds to create a short film, "We the Youth". Throughout the making of the film for the local church, King Jesus Ministry, Flores has been able to revisit the place where his lifelong passion was first unveiled. 
Flores' passion for the multimedia world first developed at Gables. During his sophomore year, he started participating in Gables Live, a TV production class similar to CavsTV, Gables' current multimedia publication, that made videos and morning announcements for the school. Flores also took communications classes at Gables and occasionally helped out with the Cavaleon, opening a gateway for more opportunities to further develop his media skills. 
"…The AV tech for Coral Gables at the time, his name was JB, John Bryan… he taught me a lot of the technicalities of production. I would stay with him after school just learning and helping him with the auditorium [and equipment]. It really just expanded from going and taking videos and photos, to doing the actual work in production, which is something that I still do to this day," Raul Flores said.
After graduating from Gables in 2013, he attended Miami-Dade College, where he earned his Associate's degree of Science, followed by his Bachelor's degree in Digital Communications and Media/Multimedia from Florida International University. 
Only a year later, Flores was the Media Manager at the King Jesus Ministry in Miami, Fla. and by 2017 he was promoted to the role of Senior Producer. Having had extensive experience from previous jobs such as the Television Editor and Videographer for the City of Coral Gables TV, Flores leads a team of creative minds and takes on media-related projects at the KJ Ministry like "We The Youth". Together, they collaborate to work on producing films, taking photos and organizing local events.
"Right now, one of my biggest efforts and focuses is lifting up this team that I'm meeting creatively. I just want to make sure they go to the next level. I want to share all the knowledge that I've gained throughout the years… with them, so they can experience that and take their careers to another level," Raul Flores said.
Not pausing at his endeavors, the Cavalier has also developed his own website where he uploads and showcases to the world a selection of his finished projects. Two years after graduating from Gables, Flores started traveling across the globe to shoot content for his business and clients. Having visited 25 countries in the span of five years, Flores's videoing abroad was abruptly put on hold when the pandemic hit. Now that the COVID-19 is gradually fizzling out and things are returning to a new normal, Flores is finding a way to restart his international projects. 
"People like Ms. Suarez and Ms. Zuniga always gave me a shot as well and really supported me going to FSPA, and in different ways to just continue growing. I'll always be grateful for that," Raul Flores said. 
Although wedding gigs are in higher demand than most photography jobs, creating content at any live production venue such as concerts or public events are his go-to when it comes to his profession. Flores has traveled abroad to cover a number of conferences and has worked on an even greater number of concerts and events such as the Miami Film Festival and a Cartier event in Miami. 
"It was great being around professionals and seeing how they work. I even got to learn a bit of how they handle all that professional equipment, so overall it was a great learning experience," sophomore Billy Saleh said. 
Returning to the place where he first fell in love with his passion allowed Flores to look back into his past and see how far he has progressed. Flores went from spending afternoons learning in the school auditorium to filming his own short film at the birthplace of his career. With the help of the CavsTV and KJ Ministry staff, "We the People" will be publicized in hopes of drawing the attention of possible new members of the church. 
Leave a Comment
Your donation will support the student journalists of Coral Gables Senior High School. Your contribution will help us cover our annual website hosting costs.
About the Contributor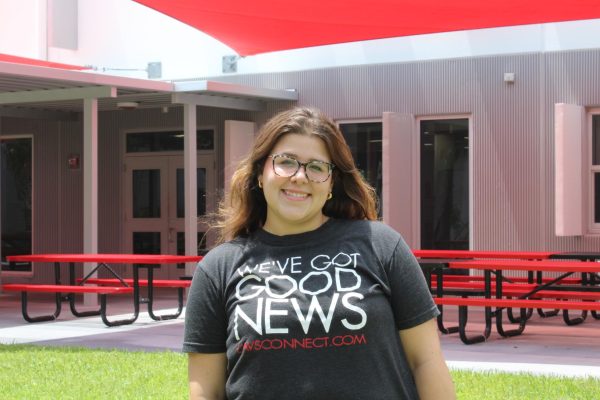 Gabriela Vega, CavsConnect Staff Writer





Gabriela Vega is a junior in the International Baccalaureate program at Coral Gables Senior High School. This is her third year in the publication,...