Introducing the 2019-2020 Cavalier Teacher and Rookie of the Year
While the Cavalier student body shines in the local community, the faculty's dedication and commitment to success never goes unnoticed. Each year, two teachers are acknowledged for the great amount of effort that they put into the school and in their students' education. Teachers and faculty were given the chance to vote and the results were announced on Nov. 11.
Ms.DePaola was given the "Teacher of the Year" award. She is an English teacher and sponsor for the community-centered club, Interact. As an educator, she dedicates a lot of her time to ensuring that her students perform to the best of their abilities. The afternoon she received the news, she was beyond ecstatic and quite shocked as she had been nominated a few times in the past. However, this is the first time she has ever won it entirely.
Ms. DePaola has an unlimited amount of love for her students and wants nothing more for them than to be open to any opportunities they are presented with. If she could give them a piece of advice it would be to study diligently. She appreciates every aspect of her job, like being able to see her students succeed. Her motivation stems from her family and knowing that she has the ability to make the most out of her day no matter the circumstances.
"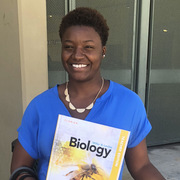 Do not give up just because something is hard or you do not understand it. Do not give up when your grade looks low. You can always improve. You just have to persist, ask for help, and not give up. This goes for school as well as life
— Ms. Singleton
Ms. Singleton won the title of "Rookie Teacher of the Year". She is a Biology and Anatomy and Physiology teacher, who has been teaching at Coral Gables for a year and a half. Although she has been teaching for a short amount of time, she had already been working with the students here for the past five years. When she had heard the news, she was very surprised that she had won the title for the school. Even though she felt a little overwhelmed at such an honor, she was joyous. 
When Ms. Singleton first started teaching, she thought it was extremely difficult, especially since she was doing something she had never done. She was not so sure if she was going to do a good job, but she realized that she started off pretty decently. Before she had started, she had wished to have realized the importance of classroom management techniques, which is greatly important for a teacher.
Ms. Singleton's goals for the rest of the year are to implement some more labs and engaging forums for learning during the second half of the year, an improvement in her delivery, and to come up with some cool ideas to make learning fun in the classroom. Her motivation for her work comes from her family, and she wants her children to know that they can do anything they put their minds to and that, whatever they end up deciding to do, they should do it to the best of their abilities. Her husband is a first-year teacher as well, and this also motivates her to be the best version of herself every day.
Despite the early adjustment difficulties, Ms. Singleton greatly cares for all of her students, finding passion in her students understanding the course content and making connections between it.
Undeniably so,Ms. DePaola and Ms. Singleton have positively contributed to our school in their distinct ways. Not only do they teach, but they also go above and beyond to aid students whenever they are in need. Both teachers are beyond grateful to be able to represent Gables and hope to make it past District Finals as teachers of the year in the Miami-Dade County Public Schools system.