Gables' Hall of Fame Welcomes Stuart Grossman
Growing up in the midst of the civil rights movement of the 60s, alumnus Stuart Grossman found his interest peaked in government classes at Coral Gables Senior High. Having graduated in 1964, Grossman was recently inducted into the Gables Hall of Fame, this time walking the halls as an established professional attorney specializing in fields such as personal injury, medical malpractice and aviation.
The fight for justice and freedom from the civil rights movement gave Grossman a sense of fairness and egalitarianism that would later become one of his biggest sources of inspiration in the pursuit of his legal career.
Throughout his time at Gables, Grossman was an involved Cavalier, a part of many clubs and after-school activities, including being the manager for the basketball team. Government classes and the teachers here at Gables motivated him to go into law as he was curious about the inner workings of courtrooms and government.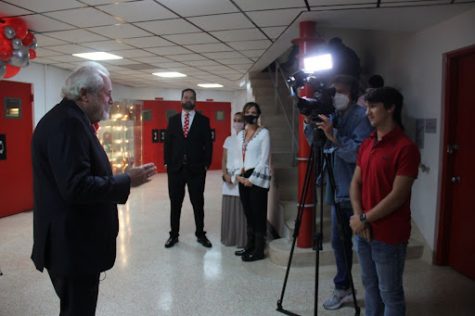 "My classmates, teachers and staff all exuded excellence. My government teachers were very effective in peaking my curiosity as to how court worked, how government worked, back then the nation was facing the Civil Rights movement and I got caught up in it all," Stuart Grossman said.
After Grossman graduated from Gables, his initial plan was to become an English teacher. However, his aspirations changed when he took the Law School Admission Test at the University of Miami and passed with high marks.
He went on to study law at George Washington University, taking a two-year break to serve in the United States Coast Guard. Nearly 10 years after graduating from Gables, Stuart Grossman received his law degree at UM in 1973.
After thriving in the world of law for many years, Grossman co-founded a nationally celebrated law firm based in Coral Gables known as the Grossman Roth Yaffa Cohen.
He is known for his prowess in high-profile cases like the bridge collapse at Florida International University where six people died and the Parkland School Shooting where 17 people died. More recently he has worked in defending the victims of the Surfside building collapse that happened in June.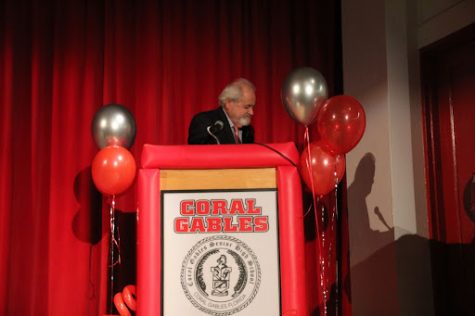 Another one of Grossman's accomplishments is the foundation of the Margaux's Miracle Foundation. Made in memory of his daughter who tragically passed away from Ewing's sarcoma, a very rare type of bone cancer, when she was only 15, it aims to raise money to create greater opportunities for the victims of this disease and other early-onset childhood cancers.
The foundation's official mission is to "make miracles happen for those who need them the most." Grossman has also said that his daughter's passing has given him a greater sense of sympathy for those clients who he represents that have had their hearts broken by tragedies such as the one he faced.
During his speech, he addressed the current students in attendance. He told them about fighting for what is right and safeguarding our society. Grossman prioritizes the rights of people especially in moments where they have been harmed or done wrong, a big reason why he pursued the career he did.
"We all have to live here, we have an environment to protect, we have each other to protect, we have to care. It starts here at Gables High," Stuart Grossman said.
The alumnus always says "the school made him part of who he is today." His love for Gables has extended to recent times as well; when the school needed a new golf cart to service the players on the field and to move around equipment, Grossman generously donated one. With his induction, Grossman's achievements will now always be memorialized in the school's Hall of Fame.