Jorge Valero: Long Live Mexico, and Long Live World Peace
As  senior Jorge Valero reviewed his emails in hopes of finding college updates on his admission status, he discovered an invitation that would change his life forever. An email sent by the Scholas Occurentes organization led him onto a journey he never thought possible.
Scholas Ocurrentes, a Mexican scholars program directed towards empowering the youth, presented Valero with the opportunity to not only attend, but to speak, at an event they were hosting in Mexico. Scholas is constituted as an International Organization of Pontifical Law, holding facilities in Argentina, Vatican City, Colombia, Spain, Haiti, Italy, Mexico, Mozambique, Panama, Paraguay, Portugal, and Romania. The organization has more than 400 thousand educational centers and reaches more than one million children and young people around the world. The program was implemented by Pope Francis over 18 years ago with a mission to link alliances to solve worldly problems; "Persigue el ambicioso proyecto, sin precedentes en el mundo, de brindar capacitación integral en oficios a personas sin recursos económicos, con el compromiso de todos los actores sociales", is the program's mantra.
The first impression Valero left with the Scholas administrative staff left behind a significant impact; Valero's natural charisma and kind-hearted personality, as well as active participation in his community and high school, brought him the opportunity to partake in this once in a lifetime experience.
During the final week of October, Valero surprisingly found himself flying to Mexico amidst his rigorous school and extracurricular workload. What inspired Valero to then rearrange his entire schedule and attend the event was his interest in further understanding Central American culture and the desire to build relationships between people from around the globe. He sought to challenge himself as a leader and gain valuable experience working to solve social issues, which he hopes to later implement in his own community.
"I am beyond humbled and grateful for the opportunities the Annual Scholas meeting gave me," senior Jorge Valero said.
Once in Mexico, he convened with citizens from over 16 countries. These meetings were intended to plan solutions for issues affecting neighboring communities, such as the mitigation of gun violence and most importantly, the promotion of mental health awareness.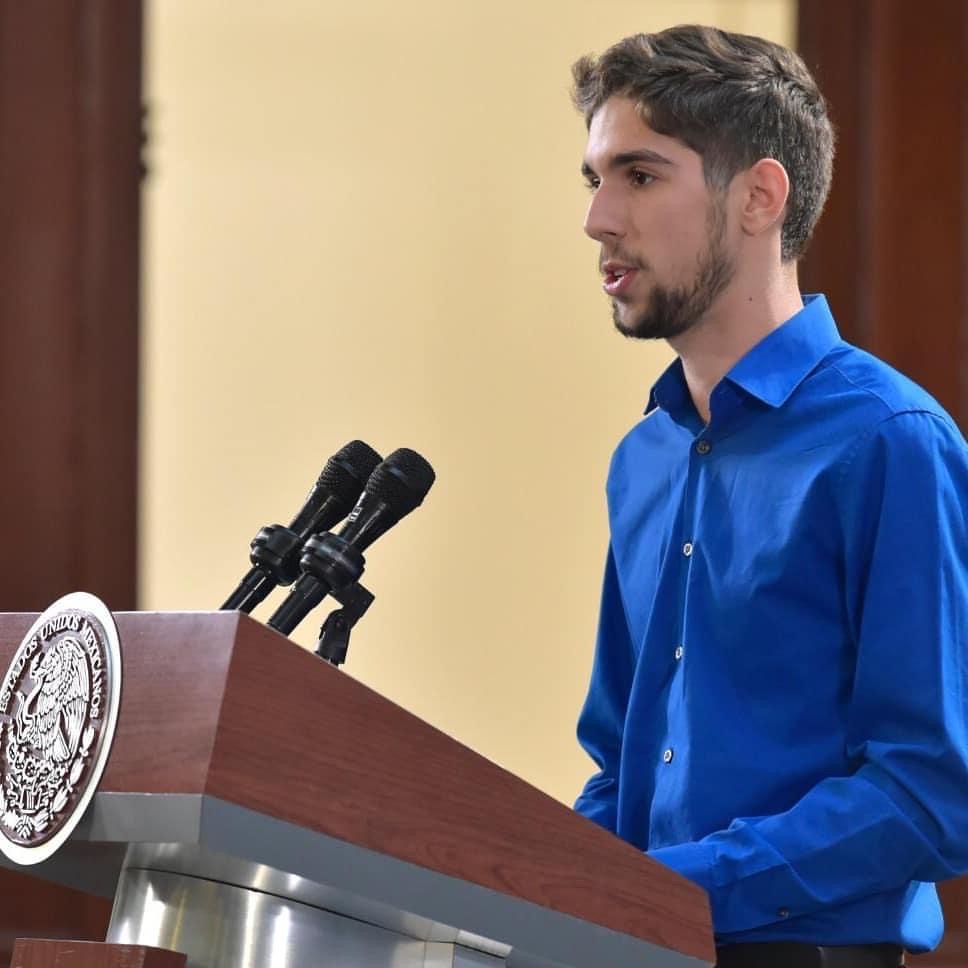 The most honorable moment for Valero was his visit to the National Palace of Mexico during the Scholas World Youth Meeting. Valero delivered an awe-inspiring speech in front of the President of Mexico, Andrés Manuel López Obrador, other guests invited by Scholas Occurrentes and several televised network companies that provide service to thousands of Mexico's inhabitants.
In his speech, Valero first thanked the volunteers and organizers that made the event possible. He then continued on to discuss what he learned during his stay and how the activities he shared with new friends had already begun to shift his perspective about the world's citizens. By the end of the trip, Valero managed to discover new ways to challenge and deepen his cultural knowledge, and even saw improvement in the way he speaks the Spanish language. Valero also considers himself extremely lucky for the recognition and support from the abetting people, such as the President of Mexico, volunteers, teachers, friends, and families. This whole experience has left him feeling overwhelmingly joyous and thankful.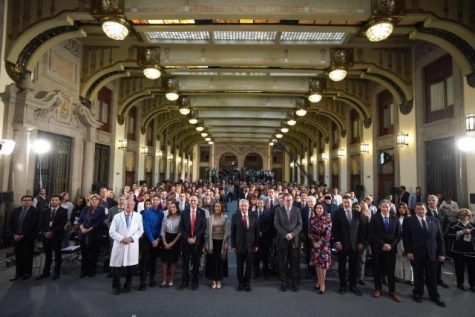 "First off, I want to say that Jorge Valero is a G.O.A.T. My understanding of this generation is that G.O.A.T means "greatest of all time". When we went on a field trip together, called Scholas, he shined amongst over 100 kids in Miami-Dade County, so much so, that he was giving the final speech to the people in Miami. He was remembered by the staff, so they invited him, and him alone, out of all the kids of Miami, to Mexico. When he got to Mexico, he met people from all over the world. Once again, he shined among the rest and gave a speech in the National Palace of Mexico, to the current president, about his experience, in Spanish. He is a baller, flexing on all of us. In the name of the father, Jorge Valero, Amen," International Baccalaureate History teacher Mr. De Armas said.
Valero's unconventional, but breathtakingly life-changing, trip changed his perspective about unifying communities and broadened his ideas for how he wants to affect positive change in our growing society. The ability to travel to a different country and meet people from all parts of the world was humbling for Valero, and remains ecstatic about having developed new interests, feeling strongly about participating in future Scholas Occurrentes events in the future.