An Inside Look Into the Summer Internship Experiences
For students that wish to expand their learning opportunities, summer gives them the break they need from their busy schedules to do just that. For some Cavaliers, this meant taking part in the Summer Youth Internship Program for Miami-Dade County. This program is meant to engage teens by teaching them to become more mature, prepare them for adult life and show them the ways different areas of specialization function. Through its 5 week duration, high school students are taught how to work in a professional environment by interacting with consumers and by learning the rules of the workplace. Along with working for a company or organization, students have to complete written assignments about resources, planning ahead, reflection, assessment and technology to get credit for their efforts and ensure that they truly absorbed and understood what they learned.
The Summer Youth Internship Program has been in effect for many years. However, this was its first year being open to Cavaliers. The initiative to help students was started by our very own International Baccalaureate program coordinator Ms. Van Wyk, and Student Activities director Mrs. Suarez. They made the program open to any interested International Baccalaureate (IB) program and National Academy of Finance (NAF) student. To qualify, one also had to be either in their junior or senior year of high school.
One of our very own IB seniors, Lia Sanchez, interned at the Frost Museum of Science to explore and gain knowledge about the scientific pathway.  She worked in the coral research lab, extracting DNA for experiments and testing. Her job was extremely vital as it was used as research for ways to strengthen coral reefs to survive ongoing climate change. In addition to this, Sanchez also spoke to hundreds of visitors a day, communicating the importance of what she was doing in both her spoken languages, English and Spanish,  so she could reach an even greater audience. She found her employment to be very helpful since having experience will make her a more appealing candidate when she applies for research positions in college. Sanchez was also able to learn and work towards a cause that would make the world a better place, which she was very grateful for.
"
I gained scientific communication skills and learned to convey my ideas effectively to people inquiring about the research project."
— Senior Lia Sanchez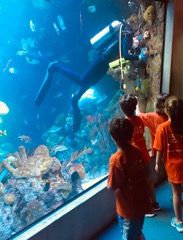 Senior Miguel Lemus, a candidate in the IB program, also interned for the Frost Museum of Science. In his scenario, he worked with children attending the summer camp. Each day he would take 30 to 38 kids to different exhibits and plan fun activities for them to participate in.
Although he did not love his work, "being part of this internship made me realize that I don't want to have a career in the education department in the future. Overall it was definitely the right decision because it made me learn about what is expected of a worker when having a job," senior Miguel Lemus said.
IB senior Nataly Toledo also decided to get involved when she heard about the program during orientation. She decided to work for a doctor's office and genuinely enjoyed the experience.
"On a typical day, I would file the charts that were left out the day before and also fix patient files for their next visit," Nataly said. She also helped input checks and send out invoices.
Not only did she leave the program with new insight, but she also gained a friendship with her boss and a part-time job offer.
These Cavaliers have stepped outside of their comfort zones to pursue the chance to expand their knowledge and experience with the help of experts in their fields. They used their free time to prepare themselves for their futures in the career they decide to pursue. This program is a great option for those in search of a similar chance to enhance their job skills. These students did great work for it being the first year the program was presented at Gables and they certainly paved the way for others to follow their lead.