Mrs. Van Wyk: Coordinator by Day, Clan Leader by Night
Mrs. Van Wyk, the coordinator of the International Baccalaureate (IB) Program (and often times the bearer of bad news when it comes to missed IB deadlines and requirements) has a life outside of school that many aren't familiar with.
During high school, Mrs. Van Wyk realized how interested she was in the education industry. With a few mentors, including her graphic arts teacher, NHS sponsor and boys basketball coach, she was picking up favorable traits from each of them, including learning to "think outside the box" and how to interact with students effectively.
"It was at school that I finally met people that could teach me what I wanted to know… and I realized that the best thing that I could do to thank them is to make sure I did the same to students," Mrs. Van Wyk said.
She started her career with an internship at Northwestern High School. Following this, Mrs. Van Wyk became a substitute teacher for a few years, and then found herself teaching Reading at Allapattah Middle School. In Van Wyk's opinion, her work as a middle school teacher really benefited her career.
"It made me realize that my job isn't to teach content, my job is to teach the child. Whatever the child needed, that's what I needed to teach them….I don't think any college prep program can teach that effectively," Mrs. Van Wyk said.
After teaching at the middle school, she began working at Gables, with job assignments that included teaching Reading, English and serving as the adviser of Highlights. This eventually led her to the role that she currently holds, the IB Coordinator.
"[My favorite part of my job] is working with the kids, definitely, hands down. The more I could work with kids, the happier I would be," Mrs. Van Wyk said.
For fun, Mrs. Van Wyk does a lot of "boy things" with her three sons. While helping one of her sons with homework, she sat next to him and took over his Clash of Clans account. Her clan has members from all over the world, with members ranging from age 15 to late adulthood. Now she has reached the highest level, and she babysits some of the other members' clans occasionally, although she is "really bad at clan wars."
She also enjoys dragging her children to cultural activities, like art festivals, and still enjoys camping, although now she prefers to go with a slightly more comfortable RV or air mattress. Mrs. Van Wyk is the counselor with all of your IB answers; keep that in mind the next time questions are raised about IB deadlines.
About the Contributors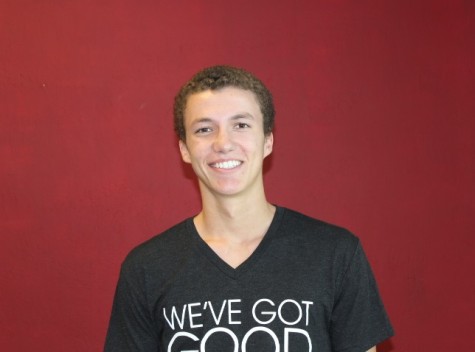 Teague Scanlon, Staff Writer
Teague Scanlon is an IB senior at Gables. As the Student Council Vice President and Support our Sports Club President, Teague spends a pretty solid amount...
Camilo Bacca, Photography Editor
Camilo Bacca is a senior in the Visual and Performing Arts Academy at Coral Gables Senior High School. He is a returning this year to the CavsConnect Staff...