Dancing His Way into the Spotlight
CavsConnect sat down with junior Melvin Taylor, Cav Crash talent winner, to catch up with him following his triumph.
Q&A:
1. How long have you been dancing?
I have been dancing since I was seven years old.
2. Who taught you how to dance?
No one. I just watched a dance move in particular and I just mimicked it, and a couple of seconds later I got it.
3. What inspired you to first start dancing?
Usher was my big inspiration at the time [because] he was a big pop phenomenon at the time when I was growing up. One dance move he did just got me up and started.
4. Do you have any other hobbies besides dancing?
 Besides dancing I like to write lyrical poems. I am a big "rapper" if you would say. 
5. Have you participated in any other talent/dance competitions?
 At my old school, I was a part of the step team and so we would go to different step shows and we would perform. We actually won our talent show, first place, last year.
6. What made you decide to try out for Cav Crash?
 This was a new start. I came to this school, [this being] my first year, and dancing was my passion so I just wanted to make a name for myself.
7. How did you prepare for Cav Crash?
 I just isolated myself from everybody else, from my family, for a couple of days and just got in the mindset of just dance. [I said] just do what you do. Do what you love. 
8. Were nervous were you before you went on stage?
I wanted to pretend like I wasn't, but during the show I really was very nervous. I was bothering all the other performers. I was like 'Ahh I'm so nervous!' 
9. Who did you think was your biggest competition?
 My biggest competition…hmm…Honestly, everybody. They [all] were extremely talented. The singers, – their voices were just amazing- the guitar players, Los Movimientos – they were hilarious. The break dancers were pretty good too. 
10. Did anyone come out to see you perform?
 Unfortunately, no family wise. Friends, I had a ton of supporters. There is one supporter in particular, [but] I don't want to call her out. But yeah, she was my number one fan…Desaray.
11. Were you surprised that you won?
 Honestly, yeah because everyone else [had] such amazing talent. I just thought talent wise, I [fell] a little short of [everyone] else. The singers – phenomenal. Patrick, who did the standup comedy was very hilarious. And yeah, I was shocked.
12. Do you have any advice for students who plan to participate in Cav Crash next year?
 If you have a talent, and you like to show it off, just do Cav Crash. It's a great way to show everybody what you are capable of. It's just a fun experience. You meet new people, and you just get to show off your talent.
About the Contributor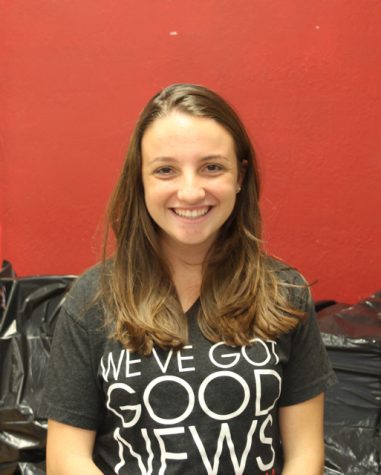 Annie Farrell, Copy Editor
Annie Farrell is a senior in the International Baccalaureate (IB) program at Coral Gables Senior High School. A seasoned Cavalier, Annie is involved in...