Art Wynwood 2017
Our Rating: A+
Over the years, Wynwood has gained international recognition for being a burgeoning center for the arts. This prominence has given Wynwood the chance to proudly host the Art Wynwood fair every year. Art Wynwood showcases an incredible variety of contemporary art from artists all over the world. Boasting over 65 international galleries, the art festival flawlessly incorporates works from the local Miami art scene with international pieces.
Located in the Wynwood district near Midtown, finding the event is relatively simple. The showcase is held inside the Art Wynwood Pavilion, which is a definite perk because it avoids the problem of having the scorching sun beat down on your face. The ambiance is classy and refined, the pieces are arranged on walls and in rooms-closely imitating a classic art museum. For an event seeming so sophisticated, one would typically expect a high ticket price, much like the prices of tickets to other prominent art shows such as Art Basel. However with ticket prices at only $15, Art Wynwood makes it affordable to partake in a culturally enriching experience.
"Art Wynwood: all around an incredible experience with eye opening art pieces and an extremely diverse showcase of abstract art," sophomore Alain Perez said
Art Wynwood showcases a myriad of contemporary and modern art, in all kinds of mediums. From paintings to sculptures to multi-media pieces, Art Wynwood exhibits works from up-and-coming artists as well as artists who already have a claim to fame. This diversity in artists and galleries creates the unique experience of being able to see such a variety of perspectives and opinions embodied as art. Additionally, there is usually a representative at each of the different booths who can answer any of the questions one may have about the art or the artist. Additionally, Art Wynwood also offers interactive showcases and art talks for art enthusiasts.
"Art Wynwood was a really cool experience and I would definitely go back next year," freshman Emily Kay said
The Art Wynwood fair is an excellent way to spend a weekend with friends, and appreciate quality art. Next President's Day weekend, make it a priority to pass by and check it out!
About the Contributor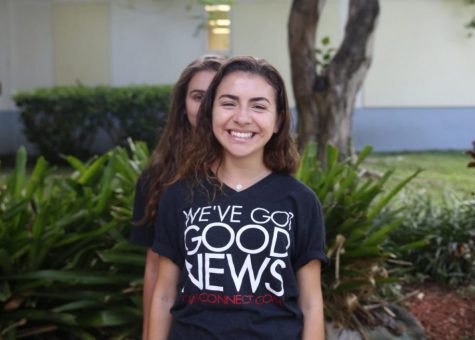 Natalia Rodriguez, Reviews Editor
Natalia Rodriguez is currently a senior in the International Baccalaureate (IB) program here at Gables, and is excited to continue editing for CavsConnect...