Are you a 'Sucker' for the Jonas Brothers?
Single: "Sucker"
Artist: Jonas Brothers
Genre: Pop
Release Date: March 1st, 2019
Our Rating: A
The Jonas Brothers are back! It is almost as if we are back in the early 2000s when teenage girls would have dance parties in their rooms to their hit "Burnin' Up" while watching Disney Channel all night. Nick, Joe and Kevin Jonas formed one of the most beloved boy bands; they were featured in the well-known Disney Channel movie "Camp Rock" and even had their own show. The Jonas Brothers era ended, however, when they each decided to follow their separate paths. But, to the delight of fans everywhere, the trio has returned with their hit song, "Sucker."
"
I have been listening to this song on repeat ever since it came out. It is so catchy and fun. Listening to a fresh song with that same Jonas Brothers' style from the 2000s takes me back to my childhood."
— senior Paola Gonzalez
"Sucker" makes you get up and dance almost involuntarily! Fans are obsessed with Nick and Joe's harmonies, the catchy beat, Kevin's instrumentals and their classic funk. We can see the growth and maturity that the brothers have developed along the years. Their songs are not merely about teenage love anymore, but rather more mature and seductive romances. The song is an instant mood booster because of its groovy and upbeat feel.
On the flip side, "Sucker" may be a bit repetitive, specifically with the phrase "I'm a sucker for you" and some listeners claim that it would be better with more diverse lyrics. This style, however, does appeal to a wider audience and provides a relevant, radio-friendly sound. With the amount of popularity that it has gained since it was released, it will not be surprising that the Jonas Brothers continue on this musical journey as a trio.
"The song is very catchy and like a classic Jonas Brothers song. It felt like they picked up where they left off, which is great!", junior Kristen Sosa says.
The image from the album cover allows us to see a reconciliation between their own individual talents. We saw Joe Jonas in the pop group DNCE release the extremely popular and catchy "Cake by the Ocean." We also rooted for Nick as he released "Jealous," another fan favorite. With the time that they spent solo, they have each been able to further develop and improve their skills as individuals in order to come together even more powerfully. We are very excited to see what the future holds for the Jonas Brothers and we hope you are too. The trio is back and better than ever!
About the Contributor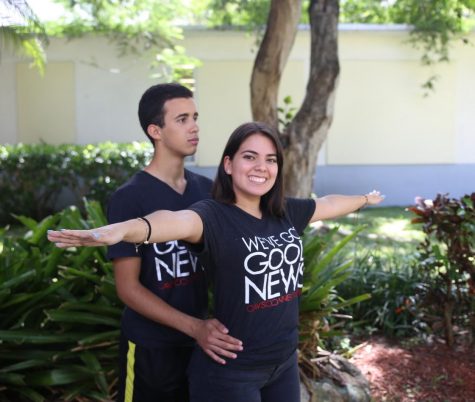 Guiliana Garces, Staff Writer
Guiliana "Gigi" Garces is a senior in the International Baccalaureate (IB) program at Coral Gables Senior High School. As a new member of the CavsConnect...