Suspense Awaits the Cavalier Track Team at Districts
"Is this the end?" This was the suspenseful question that haunted the track & field athletes of District 16, approaching the check-in table for their events. As the spring season rounded the final curve, athletes had the opportunity to extend their season one week further with the district championship on Apr. 27 at Southridge Park. Only the top four finishers from the district qualified for regionals the following week.
Since the beginning of February, the track & field athletes of Coral Gables High School have worked tirelessly to perfect their craft and dominate their events. Meeting every day after school, the athletes ran two laps and then conducted dynamic stretches to warm up their bodies prior to workouts. After five minutes, the athletes then split into their designated events.
The Cavaliers kicked off their season with one of the largest season-opening meets in South Florida, the Louie Bing Invitational. During March and April, the squad attended the Youth Fair Championship and the Greater Miami Athletic Conference Finals. After several months of demanding effort, personal records were bound to be shattered at districts.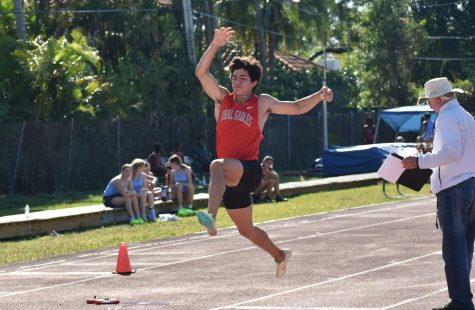 "It was great being alongside my teammates this whole season and all of us working toward a common goal. It is always nice to be surrounded by people that are just as hard working and just as dedicated as you are, and I appreciate that, because it motivates you to do more and to put more effort into what you're doing. I really owe a lot to the people I was surrounded by, regarding how far I was able to go this season," senior Isabella Morales said.
Among the schools attending were Gables, Coral Reef High School and G. Holmes Braddock High School. Eight different uniforms showered the field, competing for a district title. The meet consisted of 18 events, including field and running events, ranging from a 100 meter sprint to a 3200 meter run.
---
Field Events
At approximately 2 p.m., the field events, including javelin, shot put, discus, pole vault, high jump, triple jump and long jump, began. With great performances from the athletes in each of these events, many scored in the top four and qualified for regionals. The following Gables athletes placed in the respective competitions:
senior Avery Felix – fourth place in high jump
senior Jermiya Council – third place in triple jump
senior Ajaanii Malone – third place in triple jump
senior Thomas Cancino – fourth place in long jump
senior Jarrod Butler – third place in shot put and fourth place in javelin
junior Martina Gonzalez – fourth place in javelin
junior Ahmad Fambro – second place in triple jump
junior Jordan Cooper – fourth place in high jump
sophomore Lesday Viera – first place in pole vault
sophomore Damirrah Passmore – second place in pole vault
"Going into districts, I was more determined compared to other meets I have been to this season, since districts is win or go home. Stepping on the line, I was nervous and anxious knowing that if I did not advance the season would be over, but when I did qualify for regionals, it felt great, since I did not even know if I would be able to compete at districts at all due to my hip injury," junior Ahmad Fambro said.
---
Relays
Following the conclusion of the field events, at approximately 4 p.m., the 4 x 800 meters relay was scored, marking the first running events. Junior Anthony Roles-Fotso, sophomore Reese Durand-Hernand, freshmen Luis Rodriguez and Linus Boettcher competed in this middle-distance race, suited for speedy runners with a high endurance.Their total time for the two-mile relay race 8:40, earning them fourth place and a spot at regionals.
"It felt great to qualify for regionals, especially because it was a team event, so we all made it together, and this race mattered more than any race before. I love having my team with me, because it pushes me, since I am not just running for myself," junior Anthony Roles-Fotso said.
Gables also entered the 4 x 400 meters relay, with senior Thomas Cancino and juniors Ahmad Fambro, Juan Fajardo and Jordan Cooper. Fambro opened the relay with a 48-second split, passing the baton to Cooper, then Fajardo and finally Cancino, placing third with a combined time of 3:35.
---
Running Events
Beginning at 5:30 p.m. in an attempt to escape the scorching sun, the bulk of running events were set on a tight schedule. The following runners qualified for the regional championships:
senior Isabella Morales – fourth place in 1600m (5:50)
senior Thomas Cancino – fourth place in 200m (23.06)
junior Theodore Gibson – fourth place in 110m hurdles (22.4) and fourth place in 400m hurdles (1:13)
freshman Avril Donner – fourth place in 3200m (12:50)
"
I'm very happy about the outcome of this season, given the fact that every single person that was taken to district either achieved their personal best in district or in regionals and along the way, some school records were broken,
— Coach Fotso
"Making it to regionals was a great accomplishment, and I have never made it for an individual event before, so I was really proud of my performance and ecstatic that I qualified," senior Morales said.
After nine hours in unfamiliar territory, the athletes finally boarded the bus to return to school. The Gables boys track and field team placed third out of eight schools while the girls team finished in fourth. With exceptional performances against tough competition, many athletes will advance to the regional championship on May 5, where top two finishers will qualify for State. However, for some, regionals was their conclusion of a long, successful season.
Leave a Comment
Your donation will support the student journalists of Coral Gables Senior High School. Your contribution will help us cover our annual website hosting costs.
About the Contributor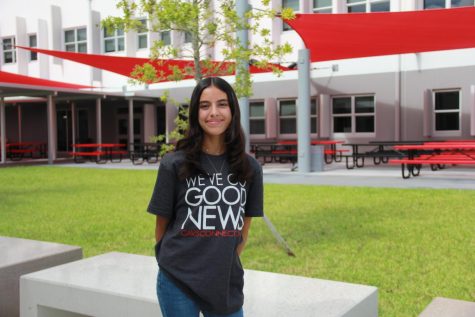 Avril Donner, CavsConnect Staff Writer
Avril Donner, a freshman in the International Baccalaureate program, is pumped to start her first year in CavsConnect as a staff writer. She strives to...