Gables vs Edison: A Baller Start
The start of the Greater Miami Athletic Conference tournament has been successful for the Coral Gables Senior High soccer team with a five to one game against Miami Edison Senior High. The team has high expectations for the tournament and has been training in hopes of winning. The GMAC tournament chooses eight teams to play from all the Miami-Dade County region based on their ranking.
"We knew it was gonna be a very physically enduring game but had high expectations. We wanted to beat them especially because last year they beat us in penalties," senior Eden Sobalvarro said.
At the start of the match, the team was struggling with communication. Senior Danny Guzman, however, was able to score the first goal of the game in the first five minutes. His teammate Eden Sobalvarro provided an assist. Edison's team then scored a goal against the Cavaliers, forcing the Gables players to put more pressure on their opponents.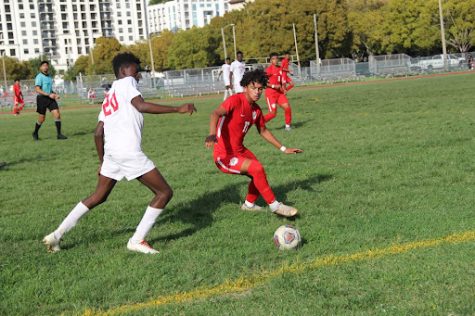 Danny Guzman managed to score two more goals, one of them being a penalty from being fouled as he was entering the box. This marked a turning point in the game since it gave the team a shot at making a comeback as they entered the lead with a score of three to one.
With the Gables soccer team in the lead, they would focus primarily on defense. Meanwhile, senior Etienne Montigny found openings in Edison's defense and made his way to score two more goals. Edison had a pressing strategy of putting pressure on the ball with the intention of winning it back off of the opposition. However, Gables players were able to overcome with precise passes and control of the ball for the majority of the game.
"Some great plays during the game were how we were able to control the ball in the defense and how we pass around. My expectation for the game was Edison would be a high team with a lot of pressing, a lot of threw balls, a lot of overhead bars and everything. We were able to recover the ball and we were able to pass abroad to the gaps and spaces that we saw in the pressing which led us to victory," senior Daniel Rodriguez said.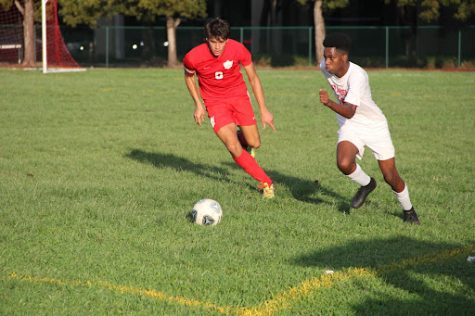 After this win, the team looks forward to their next game, which will be against TERRA Environmental Research Institute on Wednesday, Jan. 12. In preparation for this match, the Gables soccer team will practice on their ball coordination. The last time Gables played against TERRA the score was one to zero with Gables winning. With a close game, the Gables soccer team is focusing on improving their weaknesses in communication to ensure their victory on Wednesday.