Athletes of the Week: October Edition
As the fall sports' seasons are coming to an end, Coral Gables Senior High recognizes the talents and outstanding performances of several student-athletes from various sports. These individuals have put a lot of effort and time into making this season one of the best for them and have attempted to better themselves and grow through the challenges that they might have faced. Below are the stellar athletes that received Athlete of the Week honors at Gables for their exemplary performances in their sport throughout the month of October.
Week of Oct. 7- 14: Iliana Ravelo.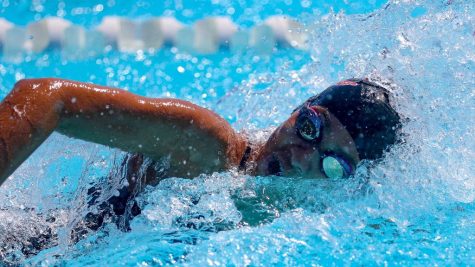 Ravelo's outstanding performance at the Greater Miami Athletic Conference (GMAC) swimming tournament was recognized when she placed third overall in the 50 meter freestyle stroke, and first in the 100 meter freestyle stroke.
"I felt satisfied placing third in the 50 because I knew the girls that beat me were older, and in the 100 I was really happy about placing first because I always get nervous in that event and I have trained a lot for it," sophomore Iliana Ravelo said.
Ravelo's timing for the 50m freestyle was 0:25:12 and 0:54:18 in the 100m. Having been swimming for around five years now, Ravelo hopes to make it to States next season and plans to continue her sport at the college level.
---
Week of Oct.14-21: Jermaine Witherspoon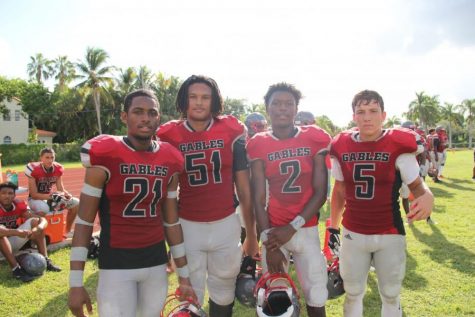 The Coral Gables Cavaliers Football team beat their district rival, the Coral Park Rams, 42-0 in a game where junior Jermaine Whiterspoon helped the Cavaliers obtain their victory by recovering a fumble and a returning an interception 50 yards for a touchdown.
Witherspoon considers football to be a very important part of his life and, because football runs in his family, it is a way to further cement his relationship with his siblings. Witherspoon decided to reinforce this same sense of nostalgia when he tried out for the football team in his freshmen year. To further increase his skills and make his team better as a whole, Witherspoon hopes to work harder than ever before to hopefully pave the way for the Cavalier football team to reach state championships.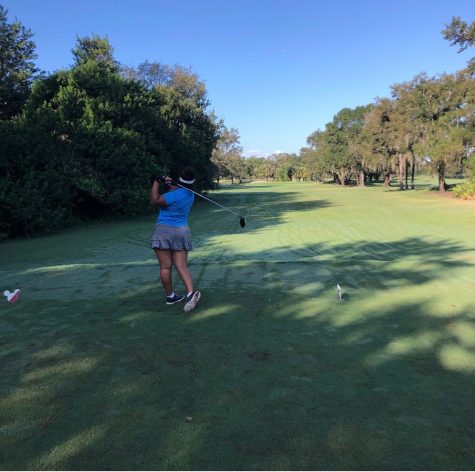 Week of Oct.21-28: Zoila Herrera
Senior Zoila Herrera paved the way for the Gables golf team in the Class 3A District 24 Golf Tournament when she shot an 86, causing the Lady Cavaliers to become district champions for the first time since the commencement of the team. Inspired by her mother, Herrera began playing at First Tee Miami, which soon led her to become part of the Lady Cavalier Golf team at Gables during her freshmen year. Since then, she has worked immensely to further her skills in order to obtain an advantage over her opponents. Alongside her team and due to her outstanding work ethic, Herrera was able to fulfill her goal of reaching Regionals. This goal reached an even greater meaning when she was able to win a district championship alongside her teammates.  Herrera will continue playing golf when she attends Wheeling Jesuit University, where she hopes to develop strong friendships with other golf players at the collegiate level.
"I'm really proud of my team, even if they feel they didn't play at the top of their game. One girl even had a wrist injury and still pushed through. I was extremely grateful to have such a dedicated team," senior Zoila Herrera said.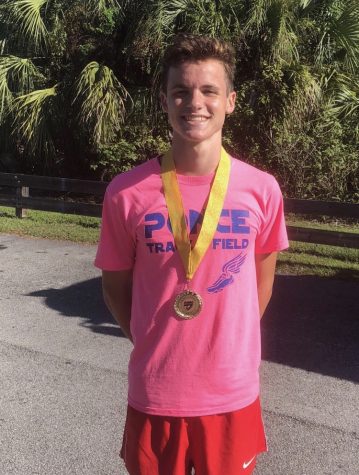 Week of Oct. 28 – Nov. 4: Colin Wilson.
Wilson has been a part of the Gables Cross Country team since his freshman year. He initially started running competitively in middle school as a JV member and transitioned to Varsity in the seventh grade. At the District 15 Cross Country meet, Wilson placed first overall in Class 4A. His achievement helped place the Boys Cross Country team at third overall for the meet.
"I felt really good placing first in 4A. I knew I needed to win if I wanted our team to have a strong showing so we could look good going into Regionals," junior Colin Wilson said.
For next season, he's looking forward to making it to States once again potentially beating the school's record for the 5 kilometer run.
---
Gables is proud of all the astonishing accomplishments these four student-athletes have managed to achieve. They will continue to improve and challenge themselves, whether it is at school or just for recreation. Throughout their respective seasons, they have managed to balance their academic work with their rigorous training and competition schedules, embodying the work ethic and dedication that defines a true athlete.
About the Contributors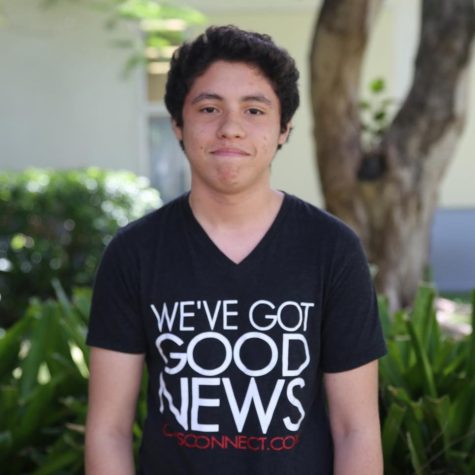 Miguel Lemus, Staff Writer
Miguel Lemus is a junior in the International Baccalaureate (IB) program at Coral Gables High School.  Lemus is excited to see what the school year will...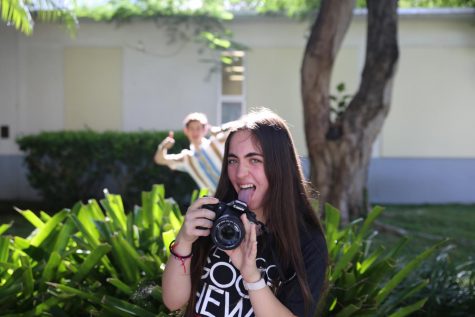 Emily Kay, Photographer
Emily Kay is a current junior in the International Baccalaureate Academy (IB) at Coral Gables Senior High School. She is ecstatic to have become a part...