A Run for History: Boston Marathon 2018
The 122nd Boston Marathon proved to be a race led by strong female athletes. Five years after the tragic bombing, the city of Boston and runners everywhere have grown stronger and more fearless. Over 30,000 participants lined up on Apr. 16 this year, all showing their endurance and courage by braving the terrible conditions of this year's edition.

The women's race had faced a 33-year hiatus of an American winner, until this year. 34-year-old Desiree Linden successfully became the first American woman to win the Boston marathon since 1985. Despite challenging weather conditions, Linden managed a time of 2:39:54. In 2011, Linden had lost the race by a mere two seconds, so this redemption was a moment of great joy and satisfaction. A two-time Olympian, Linden joined five other American women that finished in the top eight. The other great performances by American women included names like Shalane Flanagan, who became the first American women to win the New York City Marathon in 2017. After the race Linden admitted that she nearly dropped out mid-way, but instead chose to help out Flanagan who had been left behind when using the restroom. "Helping her helped me," Linden said.

"It's so amazing that a 34-year-old American woman was able to win out of so many competitors. It demonstrates the resilience and dedication she has and that women can do anything they set their minds to. The nurse that won second place is also incredible, her commitment to training despite super long working hours is truly admirable," sophomore Julianna Goldfarb said.

Coming in second place in the women's race was Sarah Sellers, a nurse anesthetist. Despite only training after work and never more than 100 miles per week, Sellers surpassed elite runners in the race. Sellers, who had never run such a distance, decided to partake in the event after her brother announced he would be running. She began to train around her 10-hour work day to qualify for the race and reach her personal goal of 2:37:00. A strong long-distance runner in college, Sellers had quit the sport after an injury. Sellers qualified for the Boston race with a time of 2:44:27, putting her in the start with the elite women. She ran the race focused and undisturbed by the conditions and people around her. When Sellers crossed the finish line and was told she had come in second place she could not believe it. Sellers achieved this with a time of 2:44:07.

"I think it's amazing the things that the women in the marathon achieved. A cousin of mine ran the marathon, so I got to see all of the work that goes in behind the scenes because every runner has to fundraise or represent an organization in order to get a spot. Also, seeing someone like a nurse who manages to fit conditioning into their rigid schedule in order to prepare for a 26.2-mile test of will is inspiring," sophomore Christopher Brazda said.

On the men's side Yuki Kawauchi became the first Japanese man to win the race since 1987. Both Linden and Kawauchi received a prize of $150,000 and Sellers received $75,000. The 2018 Boston Marathon was a historic one full of victories for American women and athletes from all around the globe.

[powr-instagram-feed id=399fc722_1524435433121]
Leave a Comment
Your donation will support the student journalists of Coral Gables Senior High School. Your contribution will help us cover our annual website hosting costs.
About the Writer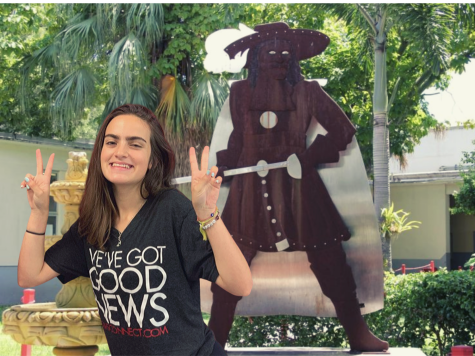 Ana Cápiro, Spanish, Student Life and Copy Editor
Ana Capiro is a senior in the International Baccalaureate (IB) program, and can't wait to start her third year in CavsConnect as the site's Spanish, Student...