50-0: Mayweather Remains Undefeated in the Ring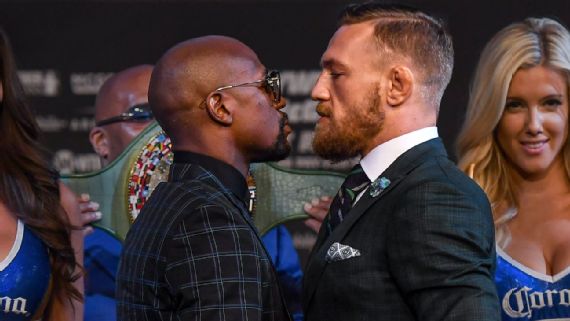 Emily Simon, Features/ Student LIfe Editor
September 4, 2017
In an atypical match up, 49-0 boxing legend Floyd Mayweather took on mixed martial arts (MMA) master Conor McGregor in Las Vegas, Nevada on Saturday, August 26. This fight may not have been of the soundest logic in the beginning as MMA and boxing have many technical differences, but the media wave that it received deemed it a match to be watched. A high energy buzz was felt across states and social networking platforms as these two fierce competitors spoke at length on how they would come to defeat the other. All of this hype lead the fight to amass an estimated total of 5.5 million pay-per-view purchases.
"I watched the fight because it was the first of its kind: a boxer versus an MMA fighter. I'd say the fight was a good one because McGregor, who had never professionally boxed in his life, lasted 10 rounds against one of the best boxers ever," junior Matthew Leus-Oliva said
This fight began like many others, giving McGregor an early chance of being crowned the victor when he won some of the first rounds and even landed an impressive uppercut on Mayweather. No blow taken seemed to have phased the seasoned and undefeated Floyd Mayweather, but McGregor's solid and consistent performance in the early rounds left many viewers expecting little of "Mystic Mac" in disbelief.
Mayweather increased his intensity and pace as the rounds wore on, starting in the fourth round and each one thereafter as he wore out McGregor's stamina. This proved to be an effective and wise strategy, considering that McGregor was not accustomed to the endurance required in a boxing match. By the time the ninth round had commenced, Mayweather was locked in and appeared unstoppable. McGregor, having grown tired from his efforts in the previous rounds, was barely able to maintain his composure in the later stages of the match. Mayweather's momentum allowed him to keep this pace over McGregor and continue to land blows to the head, further lessening McGregor's chances of recovery.
McGregor barely made it into the tenth round, but by then it was too late to attempt to complete another round. A series of unrequited blows forced the referee to stop the match, granting Mayweather his 50th win on a technical knock out.
"This match was interesting because it was unconventional and I really enjoyed watching McGregor take on a pro like Mayweather," junior Patrick Ales said.
Although McGregor lost on paper, he can be seen as a champion in his own right because he gained the respect of many viewers who believed he could not adapt and answer to the demanding qualities of the sport of boxing, and especially to an opponent who has had a career as legendary as Floyd Mayweather. McGregor's athleticism allowed him to win a few rounds in the beginning but was not enough to overcome his opponent. Mayweather's seasoned practice in the ring was simply too great of a competition for a mixed martial artist to defeat, and it also allowed Mayweather to return to retirement with his now 50-0 record.