Athlete of the Week: Robert Brown
Senior Robert Brown helped carry the boys' basketball team and had 20 pts, 28 rebs, 8 deflections, 3 block shots, 6 assists and 6 steals bringing the team to a 2-0 record for the week.
Question: How long have you been playing basketball?
Answer: I have been playing basketball the majority of my life. I started when I was a little boy and I just carried on playing.
Question: Why did you start basketball?
Answer: I started because it was a sport that my family played, from my cousin, my brother, and my father. I just wanted to keep playing and thats what they did, so why not.
Question: How has basketball affected your life? Are you able to balance sports and school?
Answer: Basketball has had a big effect on my life. I am able to balance it with school, work, and still practice. It is not that difficult. You have enough time, you just have to be determined and you need to get all your tests done.
Question: What position do you play?
Answer: I play point guard, shooting guard, small forward a little bit, and defensively I play one through the five I guess you can say, and I can still be the best player on the court.
Question: What are your hopes for this season?
Answer: So far we've had a good season. We haven't been able to win any big games yet, but my hopes are that we get focused, get right, and hopefully we can start winning big games and hopefully go to the state championship.
Question: Do you have any hobbies? or any other sports or activities?
Answer: Yes I am actually on the football team and I like to go out and be with friends. Football and basketball are my two sports that I live to play and I enjoy.
Question: Do you want to continue playing basketball or any other sports after high school?
Answer: I am actually committed to Bryant University for a football scholarship, so I will be playing college football. I am not really sure about basketball because that's going to be a lot a lot of work, so I doubt I will be playing basketball.
Question: What piece of advice would you tell a freshmen coming into gables?
Answer: Stay focused, keep your head on right, don't worry about the girls. Remember if you are trying to get somewhere, a lot of sacrifice has to take place. Stay on top of your grades because if your grades are good at the end of the year you can relax more a little bit closer to the end when its time to graduate and enjoy everything about it because you only have high school one time in your life.
About the Contributor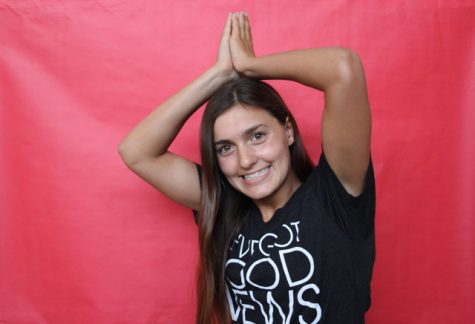 Hannah Cordes, Staff Writer
Hannah Cordes is a sporty IB senior in CavsConnect that loves everything there is to love about Gables. Whether it is dressing up for a pep rally or going...