Athlete of the Week: Chanel "Coco" Wilson & Johanna Schiefer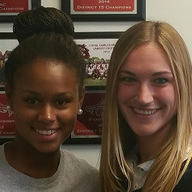 Seniors Chanel "Coco" Wilson and Johanna Schiefer both made their marks recently at the District Final matches. Wilson threw 20 strikeouts, had a home run and nine runs batted in, leading the Lady Cavaliers Softball Team to back-to-back District Titles. Schiefer won her third consecutive District Pole Vault title, having cleared over 10 feet and reserved a spot for herself at this year's State Championships.
To learn more about Wilson, read her spotlight!
Schiefer has been pole vaulting for four years now, having started as a freshman. With a personal record of eleven feet and six inches, she is certainly reaching new heights.
Schiefer started pole vaulting because when her sister was in high school, she did pole vaulting and became really good and got a scholarship to FSU. Schiefer would go to meets and practices to support her sister, and her sister's coach noticed and suggested that she try pole vaulting. From then on, they would push each other to do better.
"I started and became really good, so my sister and I started training together and that pushed me to be better and do more," Schiefer said.
Besides pole vaulting, Schiefer has done a variety of sports. She did gymnastics for nine years, cheerleading for two years and diving for a year. Schiefer also enjoys surfing and sailing as pastimes. Given all these activities, Schiefer needs determination to manage school; she gets ahead during the preseason to stay ahead of her work.
"School and sports? That's hard; it's basically like you going in the morning every day to school and then spending 4 hours at practice, and then you come home and you do homework, so there are long nights and long days," Schiefer said.
Whether on the track or on the field, these seniors are making their mark in Gables history. If you see them in the hallway, make sure to give them a high five or tell them good job; they earned it.