Athlete Of the Week: Chanel "Coco" Wilson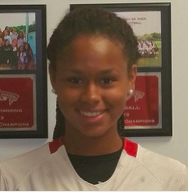 Senior, Chanel "Coco" Wilson has made her mark playing softball. During her previous game, she went 10 for 15 and had 15 strikeouts.
Wilson has been playing softball for 10 years and plans to keep playing in the future. For college, Wilson plans on staying in town and attending Miami Dade College. She started playing baseball as a kid and then she started playing softball. Wilson enjoys both playing softball and running.
"All I can say is that it felt good to have played a big part in leading the team to victory," Wilson said.
Balancing school and sports is not very difficult for Wilson. She said that time is a very important factor in balancing out the two. One of Wilson's favorite quotes is "Hard work beats talent when talent doesn't work hard." Just like every other athlete, Wilson also has a pre game ritual that she has to do every time.
"For my pre game ritual, I eat a snickers bar, my socks have to be dirty, I have to put eye black line, I have to wear a nike headband, and listen to spanish music before," Wilson said.
We are hoping the best in the future for Wilson, and hopes she continues to strive and succeed.