Losing Sleep Over Sweets: Insomnia Cookies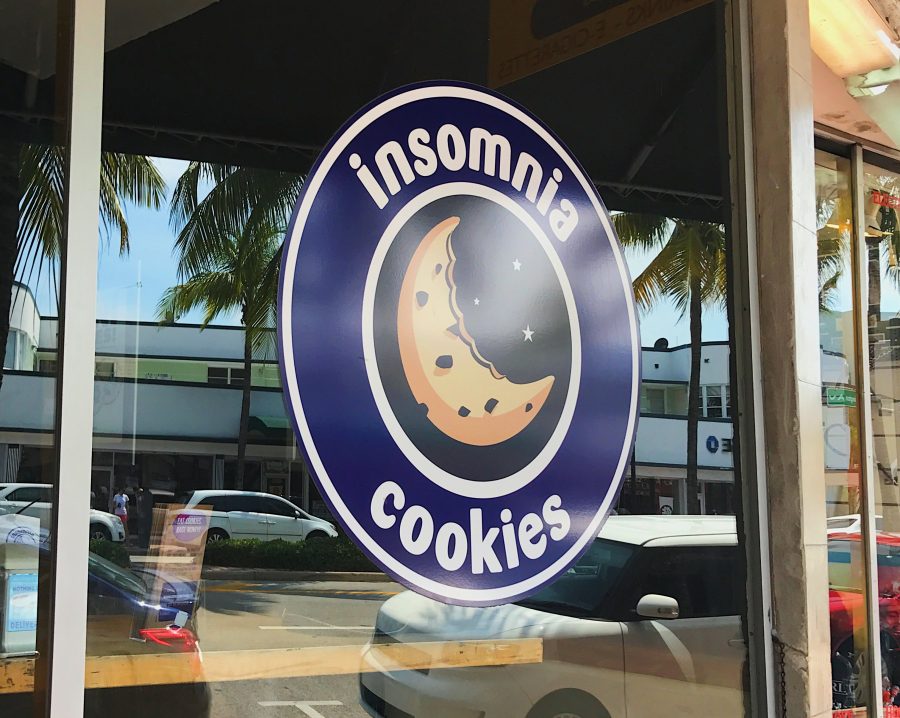 Our Rating: B+
Insomnia Cookies is well-known across the United States for its warm, freshly-baked cookies available at times that very few bakeries dare to be open. Offering delivery until 3 a.m. and pick up until 5 a.m., Insomnia Cookies has revolutionized the midnight snack, elevating it to a level that no left over Chinese take out could ever possibly reach. With over 10 different types of cookies available for delivery, sleep deprivation has never tasted this good.
Insomnia Cookies is hidden away in a tiny storefront on Washington Avenue in Miami Beach, only a few blocks away from the beach. Upon entry, the sweet smell of cookies fresh out of the oven wafts in the air, and greets you with a familiar and comforting smell. The 12 different types of cookies, as well as ice cream flavors, are displayed at the front of the store, and there is limited seating available on the opposite counter. The store in itself is not an ideal place to stay and enjoy your cookies, but was rather designed for simply picking up the baked goods so they can be enjoyed elsewhere. This is not surprising, seeing as the store prides itself on offering customers the option of having the cookies delivered to their homes as late as 3 a.m. However, the benefits of this delivery feature cannot be reaped by all of those who live in Miami; delivery from the store is only available in South Beach, all other deliveries are shipped to your home through the mail, and popular delivery services such as Postmates or Uber Eats do not deliver Insomnia Cookies.
"Insomnia Cookies is amazing, I love the S'mores flavor because of the gooey bits of marshmallow and chocolate," sophomore Alain Perez said.
The cookies at Insomnia are delicious, and there is a flavor to satisfy everyone, including vegans and those who cannot eat gluten. Their traditional flavors include Chocolate Chunk, Classic with M&M's, Sugar, Double Chocolate Chunk, Oatmeal Raisin, White Chocolate Macadamia, Snickerdoodle, Double Chocolate Mint, and Peanut Butter Chip, but they also have Triple Chocolate Chunk, S'mores, and Chocolate Peanut Butter Cup as their deluxe flavors. The traditional cookies are priced at $1.65 each, and deluxe cookies are $3.30. While this may be quite pricey for cookies, they do have box deals which reduce the price of each cookie purchased. Additionally, the quality of the cookies is absolutely amazing, so it is worth paying a little more for an experience you will most definitely appreciate. As soon as you receive your cookie, you can feel the warmth of the cookie through the bag, and the chocolate oozes out when you tear off a small piece.
"While [Insomnia Cookies] is really delicious, it's really far and hard to get to because of its location in South Beach," senior Gabriela Vega said.
Overall, Insomnia Cookies is a note worthy bakery, providing delicious cookies at times when getting a freshly baked cookies seems virtually impossible. Unfortunately, delivery is still limited to the South Beach area, but making the trip is well worth it at any hour, even if it means losing a little sleep.
About the Contributor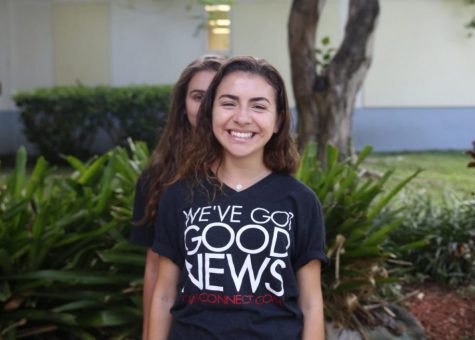 Natalia Rodriguez, Reviews Editor
Natalia Rodriguez is currently a senior in the International Baccalaureate (IB) program here at Gables, and is excited to continue editing for CavsConnect...